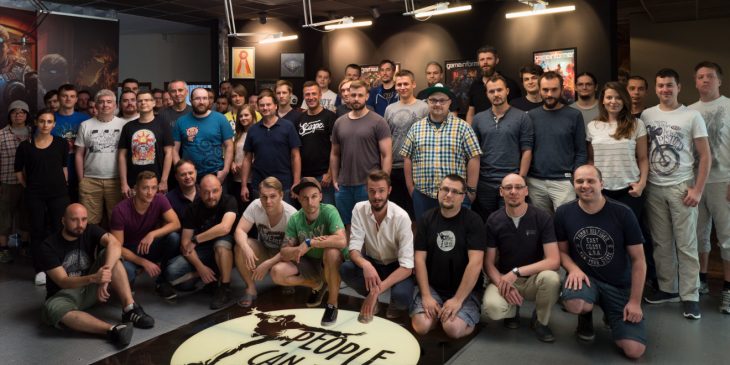 People Can Fly, developers of titles such as Bulletstorm, announced today that they have opened their fourth studio in New York, and the first for the company in North America.
People Can Fly New York brings the company's employee count up to 200 people, with studios now across North America, the UK, and Poland. The employees at the New York office, about 30 of them, are from various other studios, including; Activision Blizzard, Avalanche, Eidos Montreal, and Ninja Theory.
Executive Producer Roland Lesterlin and Studio Head David Grijns will be leading the New York office staff. Both are former co-founders of Defiant Studios, and have experience working together to lead teams of developers in the creation of a game.
People Can Fly became independent from Epic Games in 2015, and the company has been growing ever since then. The UK and Poland offices were established last year as the company experienced growth.
Grijns said in an interview that when he and Lesterlin met with People Can Fly's CEO, Sebastian Wojciechowski, they felt immediately that they all shared a similar vision. Apparently Wojciechowski saw the potential in the team Grijns and Lesterlin represented years before the partnership between them formed. The pair say they couldn't be happier to be working with People Can Fly in Warsaw, Rzeszow, and Newscastle, and they look forward to building upon their incredible catalogue of games.
People Can Fly have worked on a number of well-known games in the past. They developed Gears of War 1, 2, 3, and Judgement, as well as Bulletstorm. The company also worked on the Save the World element of Fortnite, the PVE element that sees players fight against AI enemies in the game instead of other players.
Bulletstorm was recently remastered in 2017, and People Can Fly worked on both the original and the Full Clip Edition. The game, like many of People Can Fly's was well received by critics and was welcomed to the current generation of consoles by new players and old fans.
With this new studio opening People Can Fly have more development capabilities than ever before. Any games they release from now on will be the best the studio have ever created.