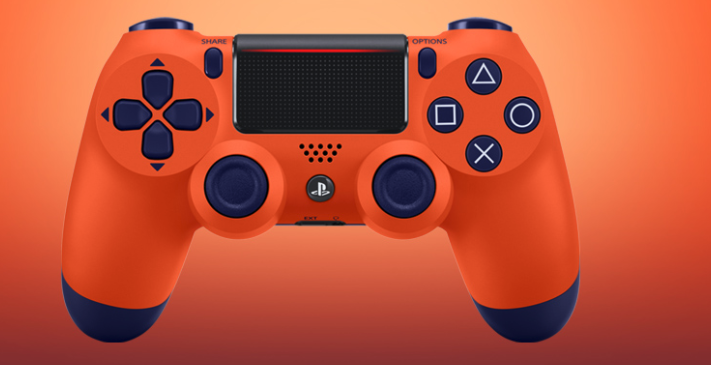 Sony has announced a new color scheme for the Dualshock 4, the controller for the Playstation 4, which will be available in Sunset Orange.
The Sunset Orange Dualshock 4 controller has been designed to replicate the look of a lovely summer evening sunset, with orange forming the core colour on the front of the controller, and deep purple making up the colour of the rest of the controller on the back.
The buttons and joysticks of the new Dualshock 4 use the same deep purple colour as the back, meaning the controller has a nice finish that looks smooth and enjoyable to handle. The purple colouring of the back reaches round to the bottom of the controller handles to give the effect that the entire Dualshock 4 has been dipped in a rich paint.
The Sunset Orange Dualshock 4 controller will launch on November 14th in Europe and Australia, with no word from Sony as of yet to whether the controller will ever be available in North America. However, Sony did say that the controller will not be available in the Middle East, Africa, Poland, Ireland, France, or the UK. Pricing for specific regions hasn't been made available yet but the price in Australia will be around $100 at launch.
The Sunset Orange controller joins the ever-growing lineup of standalone Dualshock 4 controller models, including the Gold and Silver, Playstation F.C., Destiny 2, Crystal Range, and Gran Turismo Sport variants that are already helping players personalise their gaming experience.
While the Sunset Orange Dualshock 4 doesn't commemorate any game in particular it does show that Sony is willing to produce great-looking controllers that are set apart from the norm. With Microsoft offering custom controllers to Xbox One players it's only natural for Sony to want to keep up and provide the same great custom options.
Everything on the Sunset Orange controller looks a lot clearer, from the symbols on the buttons to the arrows on each directional button, and the touchpad stands out without looking garish in any way. This is one of the best-looking controllers Sony has released.