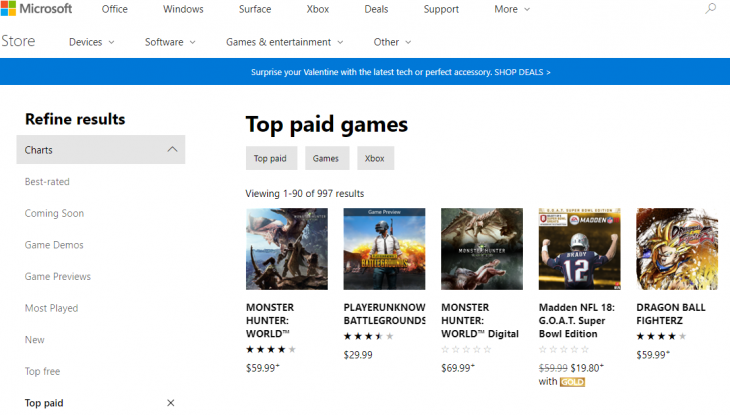 Monster Hunter World has beaten PUBG to place as the #1 top paid game on the Xbox Store. For the last 2 months PLAYERUNKNOWN'S BATTLEGROUNDS (PUBG) has been the #1 top paid game on the Xbox Store. PUBG has been incredibly popular on PC since it launched in March 2017, and sold 1 million copies in the first 48 hours on sale on the Xbox Store.
It seemed like no game would be able to beat the appeal of PUBG, a battle royale game build around to accommodate the game mode. However, Monster Hunter World, which launched on January 26th 2018, has managed to beat PUBG and become the #1 top paid game on the Xbox Store. The Digital Deluxe Edition of Monster Hunter World sandwiches PUBG in second place, taking third ahead of Madden NFL 18 in fourth, and Dragon Ball Fighter Z in fifth.
The appeal of PUBG is that no to matches are the same. Every time 100 players are dropped into one of the two maps and given smaller and smaller areas in which to hide from each other in, players create the fun with their unpredictability.
Monster Hunter World is a very different game to PUBG, even though it does still have multiplayer. In Monster Hunter World players work together to explore the open world and hunt to kill or capture monsters of all sizes and varieties.
What critics and fans alike have found in Monster Hunter World is that the world itself feels more like a living, breathing ecosystem than most other games. While players explore the world they can see how monsters behave, interacting with each other and generally existing outside of the player's influence, something that's very hard to convey in video games.
It's the quality of this open world, that allows absolutely anything to happen to a player while they're out on a hunt, that's helping Monster Hunter World compete with PUBG. PUBG is great for those who enjoy multiplayer content over anything else, even allowing players to work as squads against other teams in battle royale matches. Monster Hunter World however, offers players who prefer to play by themselves, or play in co-op instead of against others, a similar experience that has a rewarding endgame that takes players a long time to finish, making for almost endless hours of entertainment much like PUBG.