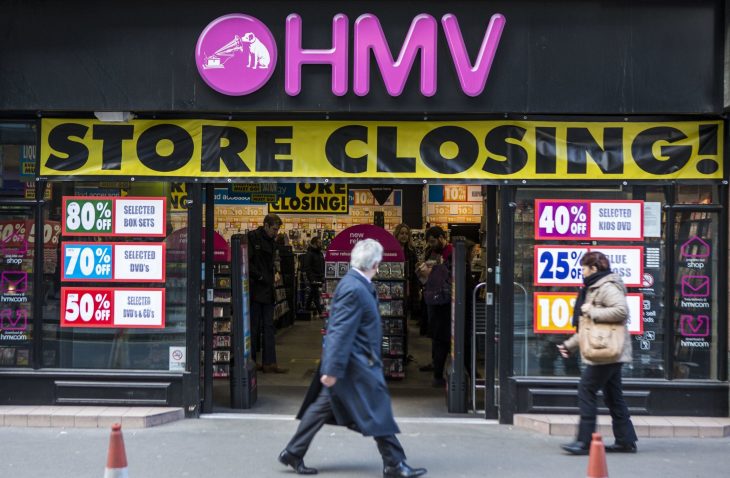 Mike Ashley, the owner of Sports Direct and Newcastle United, is said to be considering a bid for struggling high street retailers HMV. Sky News reported that Ashley "has met leading figures from the music industry to discuss a rescue bid for HMV."
HMV have a strong history on the high street but have now run into serious trouble twice in six years. Turnaround firm Hilco purchased the chain in 2013 in a bid to rescue them from the administration, but despite pumping over £60 million of working capital into the company over six years, HMV re-entered administration in December last year.
The company highlighted a range of reasons for the downturn in their fortunes but their greatest challenge has been the new ways in which consumers are accessing entertainment. The growing popularity of digital downloads and streaming has had an inevitable impact on physical sales of music, DVDs, books and games – HMV's primary sales products.
Retail Gazette report that physical sales of CDs and DVDs are "predicted to fall by 17 percent this year," while data from GfK/UKIE suggests that sales of boxed video games declined by 7.1 percent last year – a trend most expect to continue and perhaps even accelerate in 2019.
Mike Ashley is a controversial figure. He has been strongly criticized for aspects of his Sports Direct business, such as the treatment of workers, and to say he isn't a popular figure in Newcastle would be an understatement.
Nonetheless, he has a strong retail track record and a clear interest in reviving ailing high street giants. Last year Ashley acquired House of Fraser and Evans Cycles in similar circumstances so involvement in HMV would fit in with his current portfolio.
With more than 125 stores and potentially 2,000 jobs on the line, many will hope that Ashley is successful and can bring a new lease of life to HMV. High Street entertainment retailers are increasingly thin on the ground and the loss of the biggest of them all would be a blow to the industry.