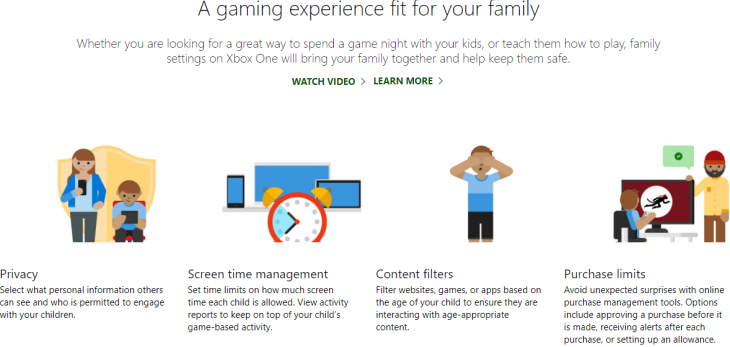 In order to get ahead of the Christmas sales period Microsoft have published an Xbox Family Guide. The guide offers parents helpful information about not only which Xbox console and games to purchase this year, but how to set them up for the big day also.
The Xbox Family Guide is a small leaflet that can fit into a pocket, covering every aspect of an Xbox from how to set it up, to how to get it online, and even what the Xbox Game Pass is. The guide also tells parents how to set-up their children with a child account, how important it is to pay attention to online spending, and what PEGI age ratings are.
Retailers like GAME, WH Smith, Gamestop, Smyths, and John Lewis will be distributing the more than 100,000 printed copies of the guide around the UK and Ireland. The guides will be available also online on Xbox website. Microsoft really want consumers to be aware of the parental control they have over the console, as well as the restrictions they can put in place to avoid secret online spending.
As part of the guide parents are shown how to set-up an Xbox One console before Christmas Day. The idea behind this is that all the games the child will receive for their console will have a chance to install on the hardware and download any required updates before they get played.
The four key parts of what Microsoft is trying to get across to parents are; privacy control, purchase limits, screen time management, and content filters. Screen time can be managed on the go, with children being able to request more via email, which parents can respond to by enabling more time as they choose remotely.
Microsoft are eager to encourage a healthy relationship between games and children. They're aware that with so much time available to them children can spend long hours gaming into the evening, or all day. They're trying to encourage children and parents to talk about games, and how long they're allowed to play for verses simply being told that they can't play anymore because they've played enough already.
Content filters have been put in place to ensure children never see anything they aren't supposed to, as long as parents put them in place. By default the family friendly content screen is shown on the Xbox home screen, but further filters avoid anything popping up that shouldn't.
Purchase controls are a big help to parents when it comes to devices such as the Xbox One. Parents can enter a 6 digit passcode which needs to be input before certain users can purchase anything, removing the fear that a child will spend hundreds of pounds in Fortnite on skins one day.
Finally, a feature called 'Ask a Parent' allows children to ask their parents for either more screen time, or if they can make a purchase. The hope Microsoft has for these features is that parents and their children have more of a shared experience in gaming, coming together rather than the children spending all their time playing in a separate room.