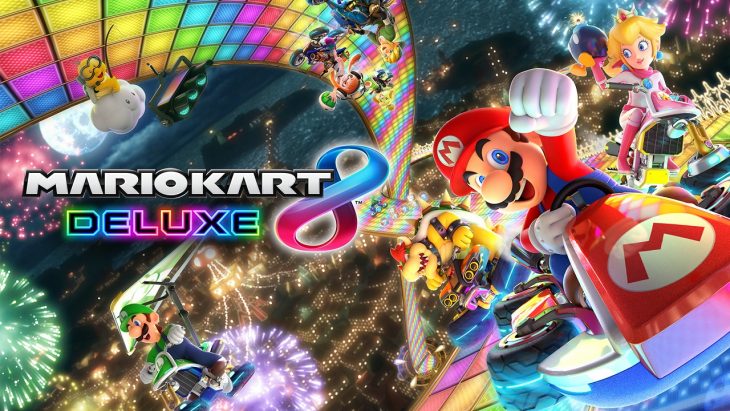 The charts for the holiday season in Japan consisted of a number of Nintendo titles, and the final chart of 2017 for the time between December 25th to 31st saw Mario Kart 8 Deluxe Edition at the top with 89,000 units sold. This is the first time that the game has been at the top of a sales chart in Japan since the second week of June
Mario Kart 8 Deluxe Edition launched in April for Nintendo Switch and has continued to sell well since then, though not always to the point that it was topping sales charts. It's likely that a number of copies were sold in bundles with Nintendo Switch consoles, because the title is perfect for solo play as well as gaming with a number of other players locally and online.
Ink-based shooter Splatoon 2 took second place in the chart with 80,000 copies sold. Once again this game is perfect for solo play or playing locally and online with others. The regular Splatfest events that have players battle over one of two hot topic choices, as well as continued updates and free new content are likely to have helped the game sell so well.
Super Mario Odyssey took third place in the chart with 79,000 copies sold. This isn't surprising considering the game received perfect review scored from some press outlets, however it only just missed out on the top spot in this final chart of 2017 which it held the previous week.
In fourth position were Pokemon Sun and Moon Ultra, selling 58,000 copies combined. This brings the cumulative sales of these games to a new milestone of 2 million copies sold.
The only new release to make it into the Japanese chart for the end of 2017 was Mario Party: The Top 100 for Nintendo 3DS. The game sold 56,000 during that week and will no doubt continue to sell well into 2018.
The Legend of Zelda: Breath of the Wild made it to seventh place in the chart. The game received a number of Game of the Year awards, which is very impressive considering it's a launch title for the Nintendo Switch. With new DLC set to hit the game in 2018 it's likely to continue selling well this year as well.
In terms of hardware sales the Nintendo Switch was the best-selling console for this week with 115,000 units sold. These sales figures were down from the previous week by 60 percent but are likely to rise as more stock appears in both physical and online stores.
The full top ten chart for December 25th to 31st 2017 in Japan is as follows.
1. Mario Kart 8 Deluxe
2. Splatoon 2
3. Super Mario Odyssey
4. Pocket Monster Ultra Sun / Ultra Moon
5. Mario Party: The Top 100
6. Yo-kai Watch Busters 2: Hiho Densetsu Banbaraya Sword/Magnum
7. The Legend of Zelda: Breath of the Wild
8. 1,2, Switch
9. Earth Defense Force 5
10. Arms