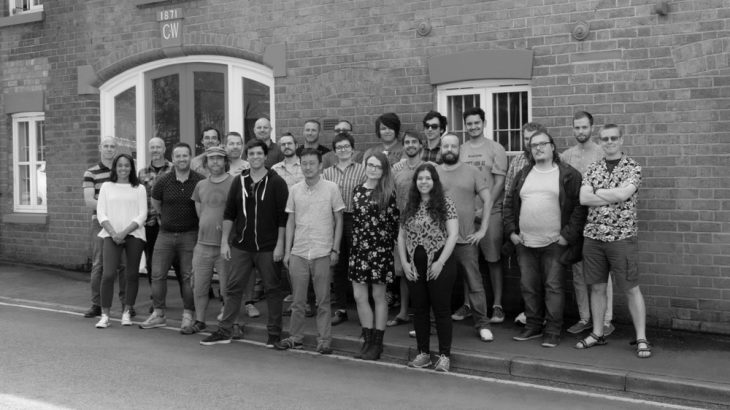 Lab42 Staff. Image source: Lab42
Lab42 Limited, a work-for-hire studio, has been acquired by Sumo Digital. The amount, that the studio was purchased for, has not been disclosed.
Lab42's 29 staff members will join the presence that Sumo Digital already has in Leamington Spa. Currently Sumo Digital operates a mobile studio in the area, and now Lab42 will be another presence for the company in the area.
Whilst Sumo Digital already has their own projects in the works, they will be adding Lab42's existing six projects to their portfolio. Of these six projects that Lab42 is bringing into the fold, one is known to be a part of the World Snooker Tour brand.
Sumo Digital may now own Lab42, but the studio will continue to operate under their own name, led by the same Studio Head, Ed Blincoe. This is similar to how Sumo Digital operates the other studios that they own, including The Chinese Room, and Red Kite Games.
CEO for Sumo Digital, Carl Cavers, explained that they believe that Lab42 is a brilliant studio. Not only are they ecstatic to be working with the team there, under Ed Blincoe, but they are thrilled to have brought the studio into their portfolio.
Cavers went on to describe how impressed Sumo Digital has been by the success that Lab42 has seen through the coronavirus (COVID-19) pandemic. Being able to bring on a studio of 29 new employees in such a time will be a real benefit to the company, since lockdowns and social distancing have made staff hiring one of the biggest challenges across all industries.
Lab42 has worked on some extremely well-known games in the past, as well as properties under their own steam. Of note, the company worked on the PC release for Yakuza Kiwami and Yakuza 0. They are also known for Snooker 19, available on all platforms, and the Nintendo Switch exclusive Terratech.
With Lab42 under their umbrella, Sumo Digital has expanded the number of potential releases they can make in a year. They have also gained new skill sets within Lab42, which will prove useful when working with other studios on collaborative projects, or simply providing a remote studio for work on specific game assets.