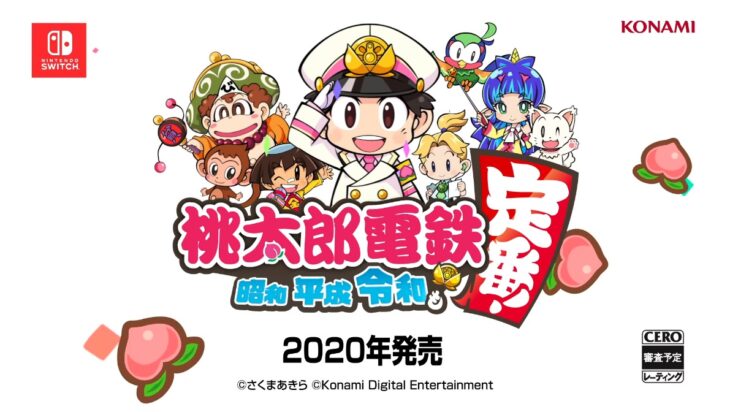 As it has since the end of 2020, Momotaro Dentetsu: Showa, Heisei, Reiwa mo Teiban! tops the Japanese game sales chart once again. The game has had a 23% week-on-week increase in sales this week, plus nothing else on the market is coming close to beating it just yet.
In second place in the chart in Animal Crossing: New Horizons despite a 20% decrease in sales week-on-week. The game's continuous popularity is echoed around the world, and with more updates coming on an almost monthly basis, this doesn't look like it'll change anytime soon.
In third is Ring Fit Adventure for another consecutive week. The game is still one of the best ways to stay fit at home, and while the pandemic is keeping most people indoors at all times, it's the preferable way to exercise.
In fact, the Japanese chart is exactly the same as last week for the majority of titles. In fourth is Mario Kart 8 Deluxe, Super Smash Bros. Ultimate is in fifth, clubhouse Games: 51 Worldwide Classics is in sixth, and Minecraft Switch Edition is in seventh.
In eighth, Splatoon 2 has risen by one place, despite sales falling by 16% week-on-week. At the time this chart reports for, the game's latest Splatfest was about to take place. This always sees a resurgence in players, resulting in many new consumers picking the title up as well.
Super Mario Pary is up by one place in ninth this week. The game is a great party title that the whole family can enjoy. With the pandemic forcing so many together indoors, it's the perfect way to defuse tension and spend some quality time together.
Finally, Pokemon Sword and Shield have re-entered the top ten to round out the chart. The games saw an increase in sales of 2% week-on-week, rising from thirteenth place. This could be due to some players being sent codes for a new mythical Pokemon.
Overall, only two games saw a rise in sales this week. This is to be expected with a lack of big new titles on the market. Hitman 3 may change that next week though.
The top ten best-selling games in Japan for the week ending January 17, 2021 were as follows.
Last
Week
This
Week
Title
1.
1.
Momotaro Dentetsu: Showa, Heisei, Reiwa mo Teiban! (Switch)
2.
2.
Animal Crossing: New Horizons (Switch)
3.
3.
Ring Fit Adventure (Switch)
4.
4.
Mario Kart 8 Deluxe (Switch)
5.
5.
Super Smash Bros. Ultimate (Switch)
6.
6.
Clubhouse Games: 51 Worldwide Classics
7.
7.
Minecraft (Switch)
9.
8.
Splatoon 2 (Switch)
10.
9.
Super Mario Party (Switch)
13.
10.
Pokemon Sword and Shield (Switch)