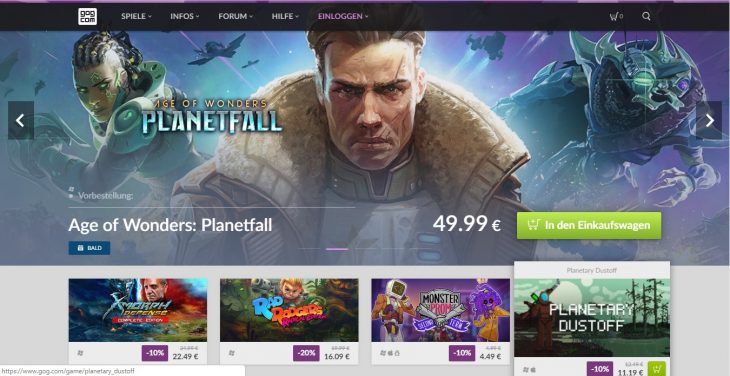 GOG, owned by publishers of The Witcher series CD Projekt, has announced that they've laid off 12 staff members. This news comes after a month of layoff announcements from similar companies such as Activision Blizzard and EA. According to Kotaku one member of staff who was laid off as part of this process told them that the store had seen some recent financial difficulty, leading to this outcome.
A representative of GOG confirmed the layoffs with Kotaku but has not provided any further detail on the reasons behind them. However, they did say that since October last year the company has been rearranging some teams, which has resulted in these 12 positions being closed as of last week.
The GOG representative was also keen to point out that while 12 people may have been let go, the company has hired almost twice as many new team members during this rearrangement process. The representative also stated that there are currently 20 open positions available.
Kotaku's contact who was laid off from GOG said they, and the 10 percent of staff the issue affects, were told a different story. According to them GOG said that the layoffs were a result of dire financial conditions.
The ex-employee said that over the last few months the entire staff have been notified of the fact that GOG are extremely close to being in the red financially. They say that the company's revenue stream can't accommodate its growth, especially with digital storefronts moving to new payment models that favour developers.
The same ex-employee said that while February wasn't a great month for GOG, January was an extremely good month. Apparently restructuring has happened before and wasn't something anyone was worried about, though layoffs are new and came out of the blue.
Previously the industry standard for online game stores such as Steam and GOG was that the developer would receive a 70 percent cut of sales. With Epic launching their own storefront this is changing, since developers would obviously favour an 88 percent cut of sales, which is what the Epic Game Store offers.
GOG was blamed for the lack of success Gwent experienced when it launched. Developer CD Projekt Red said that the store's smaller reach was one of the reasons that it didn't sell very well, resulting in Thronebreaker, an expansion of sorts, being released across multiple storefronts.