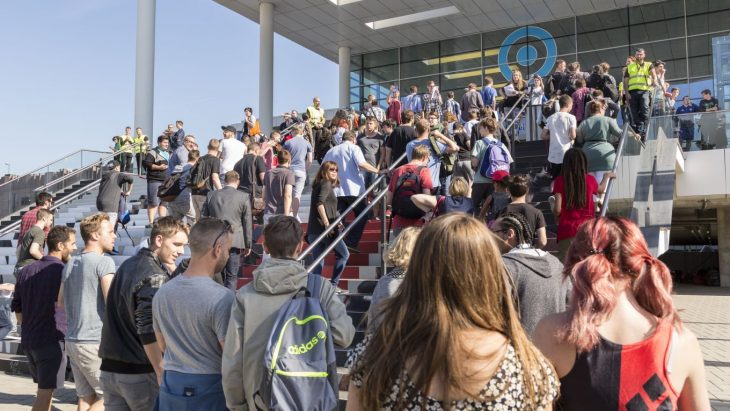 The early bird bookings for Gamescom 2019 are up by 8 percent on those made in 2018. The event is well-known as the world's largest computer and video games event, and the biggest platform for business in the industry. So far the event has accumulated representatives from 28 different countries.
Gamescom has also confirmed that the number of companies and 'top players' from around the world and the industry attending have increased too. Among the companies that have already confirmed their attendance are: 2K Games, Amazon Games, ak tronic, Bandai Namco Entertainment, astragon Entertainment, Capcom, Bethesda Softworks, Deep Silver (Koch Media), Facebook, Electronic Arts, Kalypso Media, Giga-Byte Technology, Xbox/Microsoft, Square Enix, Nintendo, Turtle Entertainment/ESL, THQ Nordic, Wargaming, YouTube Gaming, and Ubisoft.
Merchandisers are also up on 2018's attendees, with 90 already confirmed, an increase of 24 percent year-on-year. Among the confirmed hardware exhibitors are; Caseking, Alternate, DXRacer, Medion, Trust Gaming, and Razer.
A wide range of independent developers will also attend this year's Gamescom, exhibiting their creative projects and upcoming titles which are being released outside of publisher influence. The Indie Arena Booth is often one of the most exciting places to be at the event, with many of the titles becoming sleeper hits for the coming year as they launch.
Another heavy presence at Gamescom this year will be eSports, with Turtle Entertainment and ESL already on board. As eSports grows its audience more and more it's brought games into the spotlight outside of major gaming events, and this year it looks to grow in influence even further.
Gamescom begins on Tuesday the 20th of August, organised jointly by Koelnmesse and game, which is the association for the games industry in Germany. Gamescom 2018 saw 1,037 exhibitors from 56 different countries, attracting around 370,000 attendees, which included 31,200 trade attendees.
Many developers make their biggest announcements at Gamescom, saving them for later in the year and opting to hold back even from E3. There are often events for each gaming community held at Gamescom, sometimes organised by the developers, other times by the community themselves. It's become an event synonymous with celebrating the industry, and offers the public a better chance to interact with the people creating the games they love than any other event.