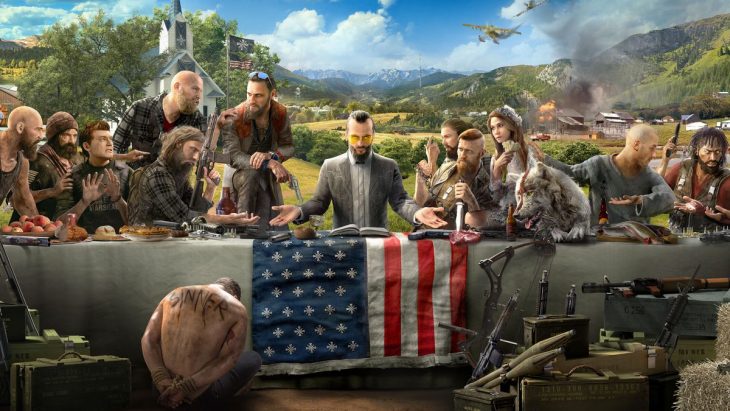 The latest entry to the Far Cry series, Far Cry 5, has doubled the week one sales of the last numbered title, Far Cry 4.
Ubisoft has announced that Far Cry 5 has doubled the launch week sales of Far Cry 4, the last numbered entry in the series. This has earned Far Cry 5 the title of fastest selling game in Far Cry franchise history.
Ubisoft also confirmed that Far Cry 5 is the second biggest game launch, generating $310 million in spending from consumers in the first week on sale. More than half of the week one copies sold were digitally, further emphasising the consumer trend towards purchasing games digitally. Far Cry 5 is second to the incredibly popular Tom Clancy's The Division which debuted in 2016.
Far Cry 5 received a wide range of review scores that differed depending on what platform the review was for, as well as whether the reviewer was a fan or newcomer to the series. Many critics were put off by the lack of follow through in the game's political references, but the consistently enjoyable gameplay and stunning finish, coupled with the new endlessly replayable Far Cry Arcade, have come together to form a game that's only rivalled by one other title in the series, Far Cry 3.
Already Ubisoft say that over 55,000 hours of Far Cry 5 gameplay have been streamed on Twitch, with the game also raking in 117 million views on videos published on YouTube. Both of these are new records for Ubisoft in terms of fan reaction through these entertainment providers.
Executive Producer of Far Cry 5, Dan Hay, told press that he's extremely proud that the game has been a success, affirming the number of hours and years of passion that the developers have put into it. He hopes that the fan reaction continues to be positive, and looks forwards to supporting players with new content in the years to come.
Far Cry 5 is the first game to include Far Cry Arcade, which allows players to create, share, and play maps made in the map editor by others. Ubisoft plan to continue adding new content to Far Cry Arcade, in addition to the three expansions promised in the Season Pass, and ongoing live events.