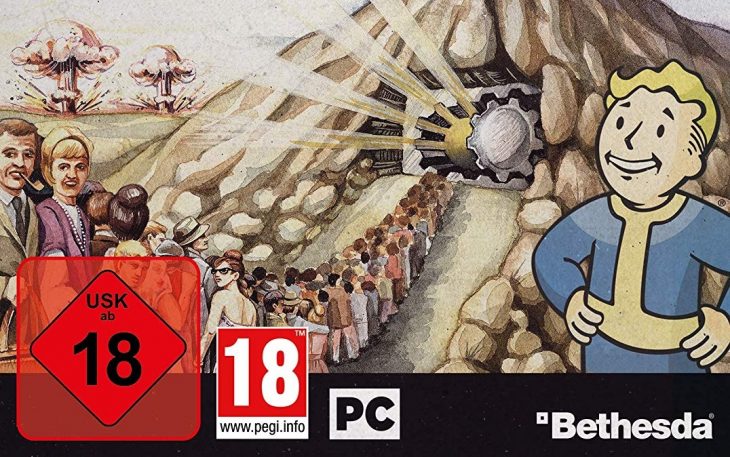 Over the weekend it was confirmed by Bethesda that the recently rumored Fallout Legacy Collection is in fact real. The product is a new Fallout game collection launching exclusively in the UK and Germany.
A listing for a product called the Fallout Legacy Collection popped up on Amazon Germany earlier this month. Many Fallout fans speculated that the product is a similar compilation of Fallout games, like the Fallout Anthology Collection was, which launched just before Fallout 4 in 2016.
The official Bethesda UK Twitter account has now confirmed that the Fallout Legacy Collection is real, and what it will bring to consumers in the UK and Germany. The product packages together the original Fallout, Fallout 2, Fallout Tactics, Fallout 3 Game of the Year Edition, Fallout New Vegas Ultimate Edition, and Fallout 4 Game of th eYear Edition.

The Fallout Legacy Collection launches on October 25, 2019, for £39.99. Unfortunately it seems as though right now there are no plans to bring the Legacy Collection to any regions other than the UK or Germany. Bethesda has not commented on why this is the case, but most fans remain hopeful of a version for their region in the future.
While the Fallout Legacy Collection isn't a new Fallout game, it is a product that will stir interest up in the Fallout franchise once again. The package doesn't include the latest release for the series, Fallout 76, which seems odd considering it is the focus of much of Bethesda's attention lately.
The launch of the Fallout Legacy Collection would seem to be a marketing strategy to bring more players to Fallout 76 ahead of the next big update, Wastelanders. This new update will add NPCs to the game, and completely change the game world forever, introducing a brand new story. However, with the lack of Fallout 76 in the collection, it seems unlikely that this is the case.
Many fans still remain hopeful for a new single player Fallout game in the future. While this could still happen, it seems as though Bethesda is far too consumed by Fallout 76 right now to be working on anything else.