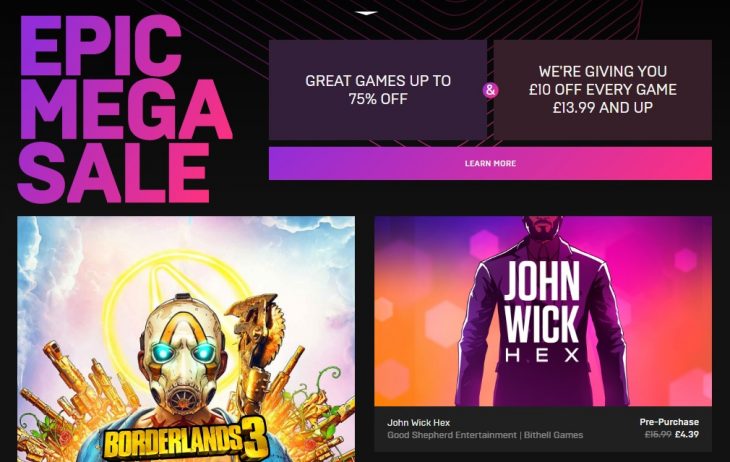 Epic Game Store have launched a new promotion, the Epic Mega Sale. The sale runs until the 13th of June and discounts all games priced above $14.99 by $10. The key difference with Epic's sale is that the discount isn't taken from the revenues that go to developers and publishers, with Epic taking the hit from their cut of the sale instead.
In addition to this discount promotion Epic is also refunding $10 on all pre-orders for games over $14.99. Any purchases made between the 2nd of May and the start of the promotion will also see a $10 refund, or a refund of the cost difference between what they did pay, and what they would have paid when the promotion began.
All regions and currencies where the Epic Games Store operates are seeing a the discount applied. The discounts will be converted so that they are the same wherever customers are purchasing games.
Epic have been slowly taking a piece of the PC games market by offering developers and publishers a better revenue split with their digital sales platform, the Epic Games Store. Epic have also secured exclusivity over games such as Metro Exodus and The Division 2 for their platform, further breaking Steam's hold on the market.
The fact that Epic Games are the ones taking the hit on income from this sale is unprecedented. Steam's regular sales impact the income for developers, but with Epic's promotion developers and publishers can still earn just as much as they would from full priced sales, with the added benefit of increased sales thanks to this promotion.
This sale is just another example of how Epic Games are trying to change the digital PC market. If Valve don't begin to offer better terms then they could see Steam missing out on the majority of future Triple A releases.
Current upcoming releases that are already exclusive to the Epic Games Store include Ghost Recon: Breakpoint, and Borderlands 3. With E3 approaching fast it's likely that we'll see many more developers and publishers announce exclusivity to the platform for their releases coming out this year and into 2020.