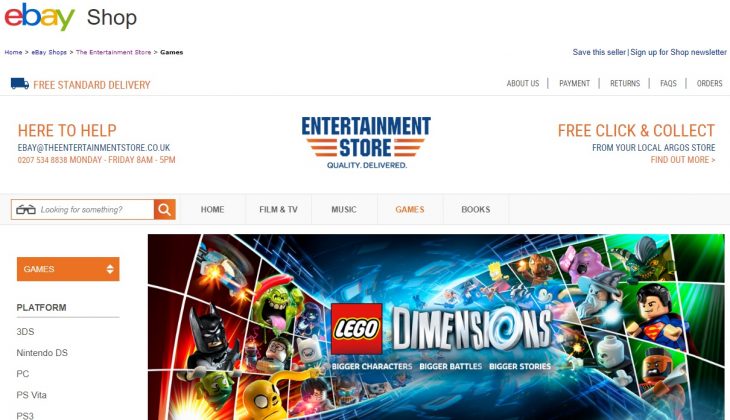 Internet retailer eBay have announced that they intend to open an online hub specifically for the sale of physical entertainment products.
The hub, which will be known as The Entertainment Store, will deal exclusively in the sale of physical games, movies, music and books and hopes to capitalise on the high level of eBay users continuing to buy and sell physical entertainment products in spite of the rise of digital media.
Video game wholesalers and retailers will no doubt be eager to explore the opportunities offered by The Entertainment Shop, especially since eBay state that their "physical media offer will deliver lower listing fees to gaming publishers, producers, wholesalers, and B2C sellers looking to grow their business."
The sheer number of consumers using eBay, estimated to be 23 million in the UK alone, will also appeal. eBay released some figures to highlight the level of gaming activity on their website. Between July 2016 and July 2017 they report 553 million searches on their website related to the gaming sector – a rise of 11 million from the previous year.
They also report sales of over 196k replacement parts and tools relating to gaming hardware and software in the same period. "This shows that there is a strong market amongst gaming fans keen to hang on to their existing consoles and continue to enjoy playing their favourite games," a spokesperson for the firm said.
"We want to be THE destination for physical media in the UK driven by best value, unrivalled inventory and competitive seller fees," eBay UK Vice President Rob Hattrell elaborated.
With wholesalers and retailers of physical games and gaming components understandably concerned by the rise of digital gaming, which allows consumers to download games directly, cutting wholesalers out of the loop, eBay's expression of faith in the physical market will no doubt be a huge boost.