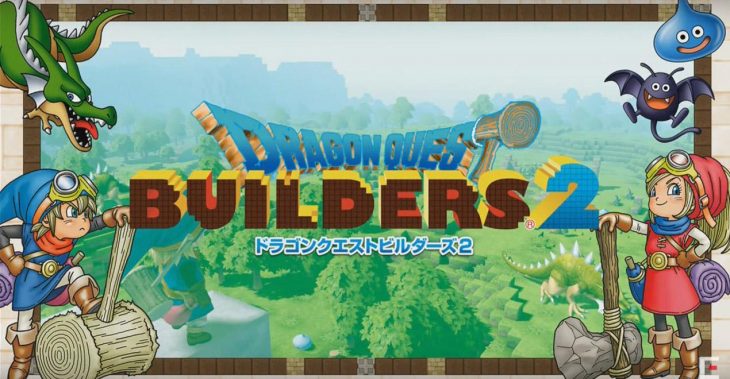 During a livestream at Dragon Quest Festival in Japan, Square Enix showed new gameplay for and announced Dragon Quest Builders 2, confirming that the game will be coming to both Playstation 4 and Nintendo Switch.
The stream showed brand new gameplay for the next entry in the Dragon Quest Builders series, including underwater gameplay and a glider mechanic that makes leaping from high points far more interesting and fun to do.
Dragon Quest Builders 2 will add new features to the series including the ability to create waterfalls, sloping platforms, the option to swim and build underwater, and the aforementioned gliding ability which is said to be a way for players to travel across the map much quicker.
The original game featured no multiplayer apart from allowing players to share their worlds and plots with others. In Dragon Quest Builders 2 up to four players will be able to play together cooperatively, working together on the same projects in order to build towns and save the world. The concept of Dragon Quest builders is very simple, adding Minecraft-like gameplay to the Dragon Quest series, but many thought that it wouldn't work. Luckily the game was met with positive reviews and has gone on to spawn a sequel.
The gameplay of Dragon Quest Builders is similar to Minecraft and Terraria. Players are tasked with rebuilding the world after it's been destroyed, including areas for NPCs to live in and occupy. Similarly to both Minecraft and Terraria, players must eat in order to ensure their character stays healthy and alive, as building all day uses up their stamina.
The first Dragon Quest Builders launched for Playstation 4, but the sequel will also be available for Nintendo Switch. The major benefit to Switch players is that they'll be able to play the game on the go. Both Minecraft and Terraria have performed extremely well on mobile platforms, proving that players enjoy these types of games while they're out and about. Now Dragon Quest Builders 2 will allow them to do just that with a well known and beloved franchise.