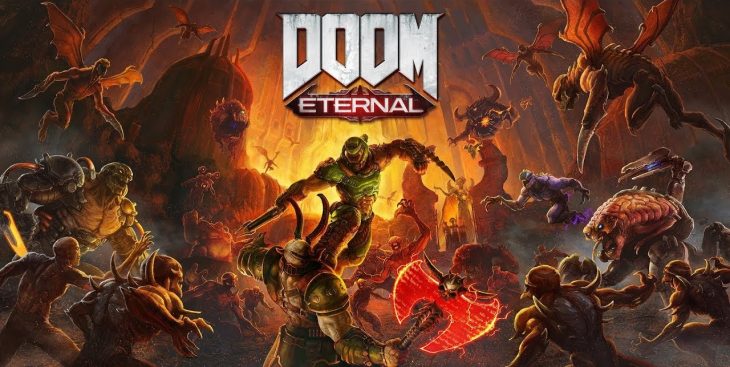 DOOM Eternal launched last week on March 20, 2020, alongside Animal Crossing: New Horizons. Both games sold incredibly well over this initial launch period, but we now know that DOOM Eternal broke franchise records as well.
The latest game in the franchise made double the launch revenue of the last game, DOOM 2016, confirmed by both developer id Software and publisher Bethesda Softworks. It also became the best-selling game on Steam for the release week, with concurrent user numbers passing 100,000.
DOOM 2016 was a revamp for the series. With Doom 3 the franchise took a turn towards survival horror, and it was a fairly successful venture. However, id Software wanted to do something different with the games from there, something that offers more action to players.
It's possible to find scraps of video footage from the planned Doom 4, which has been nicknamed Call of Doom for the way it mimics the Call of Duty franchise. That concept was quickly scrapped though, because it turned out to be the furthest thing from what fans wanted.
Instead, DOOM 2016 was a reinvention of the original Doom games. It presented the same carefully planned levels and pickups, and added new mechanics that players would need to learn and master. The game was a hit, with the huge number of Easter eggs to be found as a particular highlight.
DOOM Eternal doubles down on what made DOOM 2016 great, and adds even more layers of gameplay on top. There's more of a story in DOOM Eternal, offering players a deep lore to dig into should they choose to, but it doesn't get in the way of the moment-to-moment gameplay as it does in other series.
With DOOM Eternal, id Software has also added a free battle pass system that rewards players regardless of what they're doing in the game. Both the single-player and the brand new Battlemode multiplayer, offer progress. This allows players to chase cosmetics without a price to pay, other than the initial investment.
So far DOOM Eternal seems to be a huge hit. More people than normally may be playing it due to the self-isolation orders around the world, but that makes the game, and the fan reception, no less impressive.