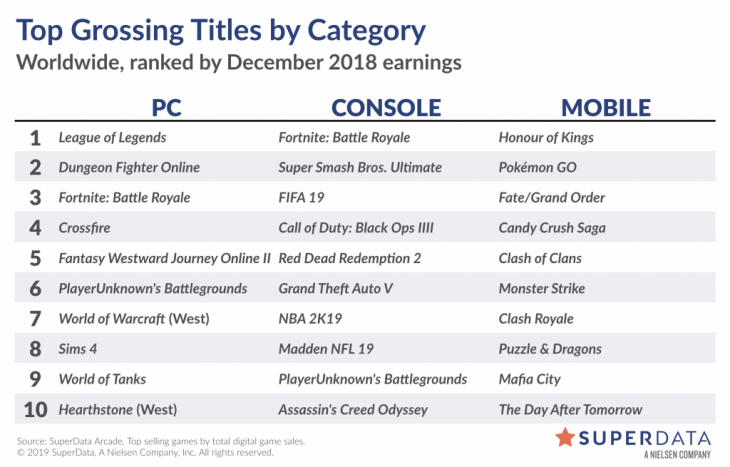 Market intelligence firm Superdata have revealed that digital spending declined 2% in December 2018 from the corresponding month in 2017. The decline appears to have occurred primarily in the PC sector, with a fall of 21% on digital games purchases for PC.
With the games industry in robust health at the moment, Superdata's figures will come as a surprise to many. The biggest surprise of all may be that the firm also report a small "single-digit" drop off in mobile games markets, which have grown exponentially in the past few years.
There was plenty of good news amidst the surprising headline figures. A 12% rise in digital console spending suggests healthy growth, while the free-to-play console sector was up an incredible 209%, propelled by the ongoing success of Fortnite.
Fortnite comfortably topped the charts for gross digital revenue for consoles. Indeed, December was its highest grossing month to date on console.
Super Smash. Bros Ultimate also made an impact in the console charts. It was the best-selling game of the month and took second place for revenue. The estimated 2.49 million digital units sold make it the best digital launch on the Nintendo Switch so far.
Somewhat surprisingly, big hitter Red Dead Redemption 2 was down in fifth place on the console charts, only one spot ahead of Grand Theft Auto V. This perhaps reflects the significance of the online component of Rockstar's games when it comes to generating digital revenue – GTA V Online has been phenomenally successful while Red Dead 2 online is in its infancy.
The December PC charts were topped by League of Legends, ahead of Dungeon Fighter Online and Fortnight: Battle Royale, while Honour of Kings topped the Mobile charts ahead of Pokemon Go.
Pokemon Go continues to lead the way in the extended reality (XR) field. All told, Pokemon Go accounted for two-thirds of digital revenue in XR, incredible numbers considering the breadth of the market now that VR is pushing towards the mainstream.
Superdata report that VR revenue grew by 30% in 2018 as a whole, with discounts on headsets like PSVR and Oculus Rift driving increased sales. Superdata predict that VR and the XR field as a whole will continue to grow in 2019 – good news for those concerned about the overall dip in digital sales in December 2018.