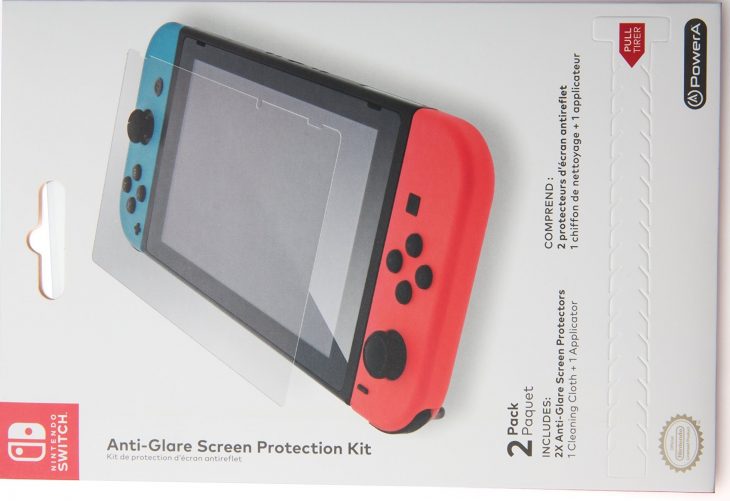 Gamespot made a list of hot selling accessories for Nintendo Switch for Christmas 2017.
The Nintendo Switch has been one of the most successful consoles of 2017, despite a shortage in stock soon after launch. Sales show no sign of slowing and the lineup of games is only growing both in size and variety as time goes on. Below is a list of the best gifts to get for a Switch owner this holiday season.
PowerA Anti-Glare Screen Protection Kit – $10
The PowerA Anti-Glare Screen Protection Kit includes a slightly hard plastic shield, cleaning cloth and screen protector. A wedge is provided to help avoid annoying bubbles during the screen protector application process, after which the shield with stop damage on the screen from any hard collisions.
Official Nintendo Carrying Case – $20
Official Nintendo carry cases come in a range of different styles to suit any Switch owner. These cases can fit the Switch with Joy Con controllers attached as well as a number of game cartridges inside without the risk of any screen damage. While the cases are only semi-hard they are secure and make it easy to transport the console just about anywhere.
Hori USB Ethernet Adapter – $30
Switch owners can buy their games physically or digitally download them to the hard drive or a Micro-SD Card. A wired connection provides a faster download speed, so anyone who only downloads their games of plays them a lot online with really benefit from a direct wired connection to the internet.
Digital Cards for the Nintendo Eshop – $10, $20, $35, $50
Anyone unsure what to get a Switch owner for Christmas can always fall back on some money to spend in the Nintendo Eshop. This is the store where gamers can purchase and download their games, not just for the Nintendo Switch but for 3DS as well. Games generally cost around $50-$60 for the most popular ones, but there are plenty of smaller and in some cases more enjoyable titles available for much less.
8bitdo SF30 Pro/SN30 Pro Controllers – $50
The normal controllers for the Nintendo Switch are Joy Cons. However, there is also a Pro controller that some prefer because it brings the buttons closer together and in one place, perfect for playing on a TV. 8bitdo offer gamepads in a classic style that look more individual than the standard Pro controllers, and some prefer these because of the different type of button placement.
Sandisk Ultra 128GB UHS-1 microSDXC Card – $50
Downloading games or even owning a lot of games for the Nintendo Switch can quickly take up all the available memory, meaning some must be deleted before screenshots can be taken or more games downloaded. A memory card like this provides a huge amount of space for games, pictures, and videos.
Anker PowerCore+ 20100 mAh Portable Charger – $65
The Nintendo Switch is a hybrid console that can be played at home on a TV, or on the go on the built in screen. Playing games a lot away from the Dock means the battery will run low, especially with full sound on or in multiplayer games. A portable charger like this is perfect because it packs in enough charge to top up the console's battery a few times, making for hours of gameplay anywhere.
Official Nintendo Pro Controller – $70
There are a few different Pro controllers for the Nintendo Switch, some of which are stylised after certain games such as Xenoblade Chronicles 2, or Splatoon 2. Even a standard Pro controller can give a gamer the edge online, or it might simply make it easier for someone to play on their Switch while it's in the Dock and playing on the television.
SteelSeries Arctis 3 Bluetooth Headset – $130
Playing on the go means that games can't always listen to their games, particularly in crowded places like busses, trains, or even waiting rooms. The reason that the SteelSeries Arctis 3 headset is a top option is because it can seamlessly stream audio to the listener whilst also streaming a microphone back into another connection. This is perfect for anyone playing Splatoon 2 or Mario Kart 8 online wanting to work together with other players, or simply taunt them from another continent.
Buy Wholesale
Many of these items are still available at selected wholesale distributors.
Related Topics:
Accessories
,
Nintendo Switch
---