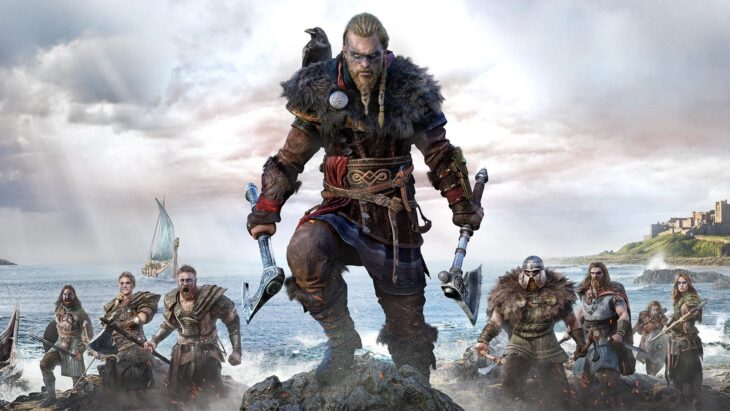 Assassin's Creed Valhalla became the best-selling game in the UK boxed retail charts, despite some tough competition. The game sold so well that it kept Call of Duty: Black Ops Cold War from reaching the top spot, which hasn't happened for thirteen years.
While Assassin's Creed Valhalla did go on sale a few days before the new Call of Duty, launching on November 10 with Call of Duty on November 13, it still outsold the popular shooter. It's thought that this has happened because of the drastic changes the market has seen this year due to the coronavirus (COVID-19) pandemic. As a result, most game sales have moved to digital platforms, which is why Call of Duty doesn't appear to have come out on top in this week's retail chart.
Backing this theory up is a statement from Anna Malmhake, EMEAA MD for Activision Blizzard. She said that Call of Duty: Black Ops Cold War has set new records for the highest day one digital sales for the series. Just how well the game has sold will be revealed in the digital chart later this week.
Assassin's Creed Valhalla sold more than double the copies Assassin's Creed Odyssey did at the launch at retail. 42 percent of all sales were for PlayStation 4, and 18 percent on PlayStation 5. This is interesting because the PlayStation 5 doesn't launch until November 19 in the UK. The remaining 40 percent of copies were all for Xbox One and Xbox Series X and S. The game was heavily marketed alongside the new Xbox consoles, so it's no surprise that a good chunk of sales have been seen for the new platforms.
Physical launch sales for Call of Duty: Black Ops Cold War were down by 64 percent compared to Modern Warfare's launch last year. As we mentioned above, the game sold far better on digital platforms though. The full picture will be revealed later this week.
39 percent of the game's sales were for PlayStation 4, 17 percent for PlayStation 5, 34 percent for Xbox One, and 9 percent for Xbox Series X and S versions.
The PlayStation 5 launched around most regions on November 12, but not the UK. Unfortunately for some consumers, PlayStation 5 games went on sale worldwide on the same date. This means that some PlayStation 5 games have made it into the chart despite there being no console to play them on at the time of writing.
Spider-Man: Miles Morales comes in third place in the chart. Physical sales are down by 56 percent compared to the main title's release, though this is more of an expansion rather than a completely new game. Even so, it's one of the biggest PlayStation 5 launch titles. 71 percent of all sales were for PlayStation 5, with the remaining 29 percent for PlayStation 4.
Other PlayStation 5 launch titles include Demon's Souls in sixth place, Sackboy: A Big Adventure in thirteenth, and Godfall in sixteenth place. The only two games here to be exclusive to the PlayStation 5 are Demon's Souls and Godfall.
Just Dance 2021 was another new release in the chart, debuting in eleventh place this week. Most sales, 89 percent, were for the Nintendo Switch, and launch sales were up by 113 percent compared to Just Dance 2020.
Yakuza: Like A Dragon entered the chart in twentieth place, with 65 percent of sales for PlayStation 4, and 35 percent for Xbox consoles. Planet Coaster: Console Edition also entered the chart this week, landing in seventeenth place. The game seems to have sold just as well on both PlayStation and Xbox consoles.
Thanks to the launch of next-gen versions, NBA 2K21 re-entered the chart in thirty-first place this week. Meanwhile, FIFA 21 dropped from first to fourth to make way for all the new releases.
Animal Crossing: New Horizons' sales are fairly steady, with a week-on-week drop of 7 percent. The game has fallen from second to fifth. Despite sales increasing by 40 percent week-on-week, Super Mario 3D All-Stars has dropped from sixth to seventh.
As sales fall by 36 percent week-on-week, Watch Dogs Legion dropped to tenth place this week in the chart.
Overall for the week, 790,000 games were sold at retail in the UK. This is a rise of 96 percent week-on-week, generating £36.4 million, a spike in revenue of 165 percent week-on-week. PlayStation 5 accounted for 19 percent of all games sold in the UK over the week, despite the game not even being out.
The top ten best-selling games at retail for the week ending November 14, 2020 in the UK were as follows.