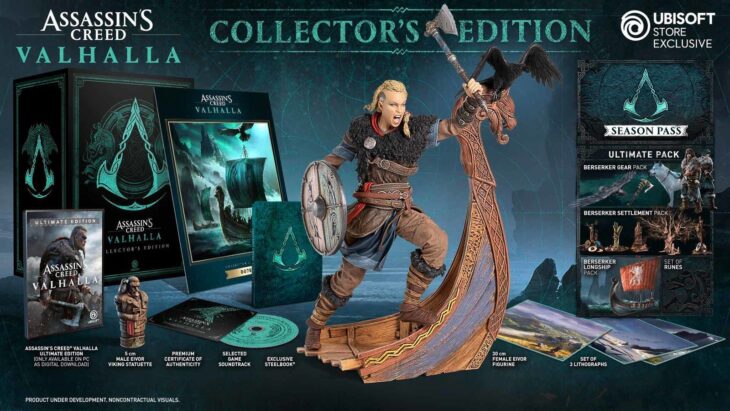 Any Xbox One owners who have purchased a collector's edition of Assassin's Creed Valhalla may need to double check what they're getting. According to Ubisoft, there might not be a physical copy of the game in those editions now.
Ubisoft noted the decision on their support site recently. They state that any pre-orders for Assassin's Creed Valhalla, Far Cry 6, or Watch Dogs Legion will now come with a digital version of the game, instead of a physical copy.
Interestingly the issue won't affect any PlayStation 4 versions of these games. The PC version on the other hand, never included a physical copy of the game, so they won't change at all.
Ubisoft has added that consumers in North America will not be affected by the change, which may be all the explanation that is needed. Not that the company has offered an explanation as to why they've made this change at all.
No doubt the contents of the collector's editions are being manufactured in one location, while the discs are being delivered from another. It's possible that Ubisoft would be assembling the collector's editions themselves, and that now there has been some kind of delay with the Xbox One discs.
If there is a delay on disc shipments for the Xbox One version of the game, you'd expect this to be seen for all versions. However, since the issue only seems to be impacting the collector's editions, it's likely that Ubisoft simply won't have them in time to make the collector's editions ready for shipment outside of the US.
Many fans will be disappointed by this news. Assassin's Creed collector's editions are among some of the most prestigious on the market. They come packaged with limited edition books, figurines, and other exclusive content that is very hard to get hold of after launch.
It's possible that some consumers will switch their pre-order to PlayStation 4, if they can. Others who are yet to pre-order a copy may also now decide to move away from the Xbox One.
Or, it could have something to do with the Xbox Series X, and Smart Delivery. It would make sense if it did, since it's easier to upgrade a digital version of a game than it is a physical one, but without confirmation from Ubisoft or Microsoft, this is pure speculation.