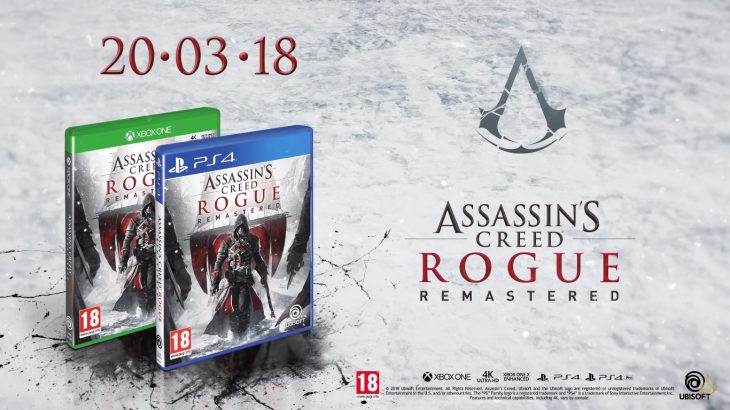 Ubisoft have announced that a remastered version of Assassin's Creed Rogue will be releasing on Xbox One, PC, and Playstation 4.
Assassin's Creed Rogue Remastered will launch on the 20th of March 2018 and is one of the last Assassin's Creed games to be remastered for current gen consoles. The only other Assassin's Creed games that haven't released for Playstation 4 or Xbox One are the original Assassin's Creed, and Assassin's Creed 3. The remaster will package together Assassin's Creed Rogue with all of the extra missions originally released as DLC, as well as a new outfit worn by Bayek in Assassin's Creed Origins.
Assassin's Creed Rogue originally released for Playstation 3 and Xbox 360 at the same time as Assassin's Creed Unity released for Xbox One and Playstation 4.The game was meant to be the series' release for the year for fans who didn't own a Playstation 4 or Xbox One, bringing many of the mechanics and themes from Assassin's Creed 4: Black Flag with it.
In Assassin's Creed Rogue players take on the role of Assassin turned Templar after his rejection from the Brotherhood, Shay Cormac. Players spend their time in the game hunting down the Assassin order in order to wipe them out, leading to the events of Assassin's Creed 3. The story will show how the Assassin's were hunted almost to extinction in the colonies, expanding the backstory of the Haytham family and Achilles Davenport.
The gameplay of Assassin's Creed Rogue is similar to that of Assassin's Creed 4: Black Flag. Players have control over Shay the Assassin as well as his ship, which they can sail around the Atlantic Ocean with devastating effect. Players can do anything from fighting with every ship they come across in the vast open world, to hunting a plethora of sea creatures such as the Narwhal. There are also sections of the game that take place on land where the gameplay is more classically Assassin's Creed, however the key selling point for both Assassin's Creed Rogue and Assassin's Creed 4: Black Flag is the open world seafaring aspect.
Assassin's Creed Rogue is the only game in the series which puts players in the shoes of a Templar instead of an Assassin. While the game is basically a sequel to Assassin's Creed 4: Black Flag the gameplay and setting are so enjoyable that the fan base welcomed it with open arms, as they no doubt will with the remaster.