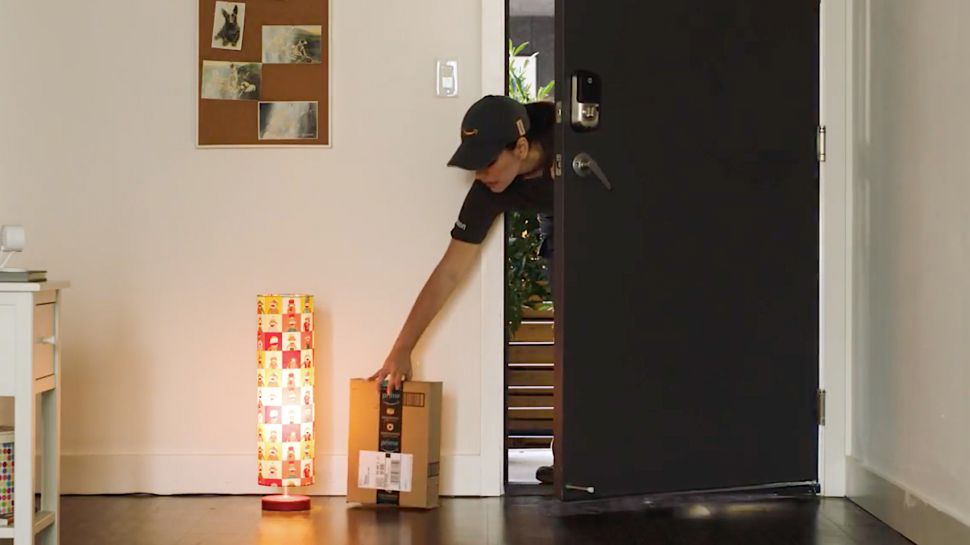 In an effort to make ordering products even more convenient Amazon has announced a brand new service that will allow deliveries to be dropped off inside your home.
The new service initiative is called Amazon Key, and it's set to make ordering last-minute packages even more of a breeze. In order to use the service customers must be Amazon Prime Members and buy the accompanying devices.
First there is the Amazon Cloud Cam, a camera Amazon recently revealed, a 1080p camera with night vision and a two way audio system. The second device required is a smart lock that can be accessed by Amazon couriers as well as those the owner grants access to.
Through the Amazon app owners will be able to view what the camera records in real time or as recorded videos. When an Amazon delivery arrives the courier will drop the package just inside the door, which is recorded by the Amazon Cloud Cam and can be reviewed later by the owner.
Owners can also use the smart lock to give to their home to others. This is very useful for those who want to let in cleaners during the working day, and the Cloud Cam means that any suspicious activity is recorded and noticed right away.
Amazon Key sounds like it will solve the rather serious issue of package theft, which is ripe during the holiday season when couriers often have to leave packages in porches or near front doors in plain sight of anyone walking by.
While it will be incredibly useful to be able to allow friends and family access to your house without the need to hide keys or meet up and exchange them beforehand, technology like this can be exploited. To many Amazon Key will sound like the world is lurching one step closer to the dystopian future depicted in sci-fi novels, but in a world where more people are enjoying their jobs and working longer hours this is a service that takes away a lot of hassle. No more missed deliveries means no more trips to the postal depot to pick them up, for example.
The Amazon Key Bundles are available for pre-order now at $250 and will launch in 37 cities in North America on November 8th.