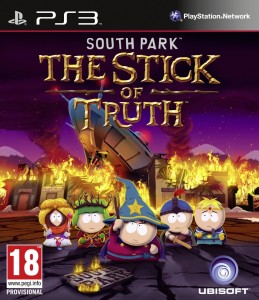 Publisher: Ubisoft
Game Series: South Park
Platforms: PC, PS3, X360
Edition: Standard, Grand Master Wizzard
Release Date: 07/03/2014
Age Restriction: 18+
Barcode:
Languages:
Average Wholesale Prices

: For Annual Members only. Register to get access.
Selling Potential

: 4/10
---
Find Suppliers
For Annual Membership registered members. Please

Sign Up

or Register.
South Park: The Stick of Truth is role-playing game, which is based on very popular TV animated show, South Park. The game is published by Ubisoft and released on PC, PS3, and Xbox 360 platforms. The story is about The New Kid who moves another city and gets involved in different adventures with the aim to get control over stick of truth. The games includes a wide range of characters, humans, wizards, elves, zombies, gnomes, aliens, etc. The game is scripted by the creators of the original South Park show, Trey Parker and Matt Stone. Originally it was intended that THQ was supposed to be the publisher of the game, but after it went to bankruptcy, the rights have been sold to Ubisoft.
---