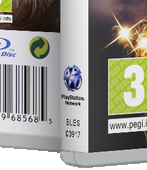 PlayStation games are marked with special regional code, which is usually printed on the side of the game case. The code varies across geographical regions, such as Europe, America, Asia, etc. Blu-ray discs may be locked so that they only function on PS3 systems purchased in the same region, languages in the game may also be different for different regions.
The usual prefixes for PS3 software titles are as follows:
Boxed
Game
Code
PSN
Download
Code
Description
BCES
NPEA
First party title, Europe
BLES
NPEB
Third party title, Europe
BCUS
NPUA
First party title, USA
BLUS
NPUB
Third party title, USA
BCJS
NPJA
First party title, Japan
BLJM
NPJB
Third party title, Japan
BCAS
NPHA
First party title, Asia
BLAS
NPHB
Third party title, Asia
First letter – the storage format. Can be either "B" for Blu-Ray or "S" for DVD.
Second letter – first party game (Sony) or third party game (exclusive or not). Letter "C" for first party and letter "L" for third party.
Third letter is the region. "A" = Asia, "J" = Japan, "U" = United States and "E" = Europe.
Fourth letter: indicates the type of content. "D" = Demo, "S" = Game.
Games that have been purchased from PSN have other codes, see the table above.
---