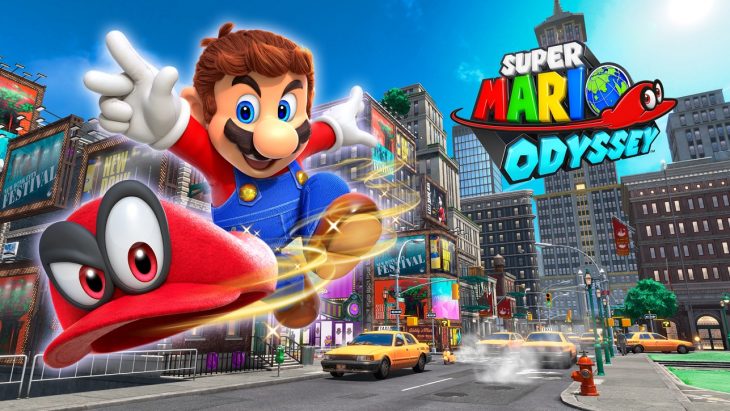 | Reviewer | Score |
| --- | --- |
| Metacritic (aggregator) | 97/100 |
| Amazon (customer reviews) | 4.8/5.0 |
| IGN | 10/10 |
| Polygon | 9.5/10 |
| Trusted Reviews | 10/10 |
| The Guardian | 5/5 |
| Gamespot | 10/10 |
| Aggregate Score | 9.8/10 |
He's back! Nintendo's iconic moustachioed plumber (who never seems to plumb) makes his first platforming outing on the new Switch console in a return to the sandbox style of Mario 64 and Super Mario Sunshine. New Mario games are always eagerly anticipated and teaser trailers for Super Mario Odyssey at the last two E3 Expo's have whetted the appetite. Mario has been seen cavorting in New Donk City, taking on dinosaurs and making new and unexpected use of his trademark cap.
Does the final product deliver on its promise? Let's take a look at some of the major reviews of Super Mario Odyssey.
Metacritic. Review aggregator Metacritic currently list Super Mario Odyssey with an aggregate score of 97 out of 100. At the time of writing the score is based on 67 reviews. Unusually, all 67 of these reviews are classed as "positive" by Metacritic, with none falling into the less favourable categories of "mixed" and "negative." This offers a strong early suggestion that Super Mario Odyssey is a very good game, indeed.
Gamespot: "It's a shining example of refined creativity, and another crown jewel for Switch that is without equal."
GameSpot certainly feel that this is the case. They awarded Super Mario Odyssey a perfect score of 10 out of 10 (only the 15th perfect score they've handed out in 21 years of reviewing!) and noted that Super Mario Odyssey "is neck and neck for top billing among its esteemed predecessors." They praised the game's level design, its playing mechanics and an abundance of wit that harks back to the early days of the series. They noted that the game has certain design similarities with Mario 64 but goes far beyond its predecessor in terms of scale with environments that "are bigger and some of the most interesting ever seen in a Mario game." Overall, GameSpot noted that the game is another example of "Nintendo going above and beyond to redefine our expectations."
The Guardian also awarded Super Mario Odyssey a perfect score, five stars out of five. They reserved particular praise for the addition of "Cappy," a ghost-like power that allows Mario to temporarily control other characters by throwing his cap on them, noting that after "30 years of at least one new Mario adventure per Nintendo console, it helps to have a feature that differentiates the latest from the last." For the Guardian Cappy adds playfulness and diversity to the standard Mario formula and "gives you so much more to play with."
IGN: "Super Mario Odyssey is a brilliant adventure and love letter to the series that made Nintendo a household name."
IGN also awarded Super Mario Odyssey full marks, 10 out of 10, with the reviewer noting that they actually applauded as the end credits rolled on the game. Like GameSpot they noted that the game draws on Mario 64, but, for IGN, it went beyond its iconic predecessor not merely through level design but through innovative new mechanics – "fusing classic-style 2D gameplay with the 3D world and using a completely new possession mechanic to add constant variety to Mario's abilities and exploits." They did note that the game isn't perfect. Unlike Zelda: Breath of the Wild, they found the difficulty curve a little lacking, with most bosses easy to slay, and observed that the camera sometimes limits the player's vision at crucial moments. These were, however, very small drawbacks on a game that "is a brilliant adventure and love letter to the series that made Nintendo a household name."
Polygon scored Super Mario Odyssey at a comparatively stingy 9.5 out of 10. They echoed many of the positive points highlighted by other reviewers – huge levels, the gameplay diversity added by Cappy, the game's "sense of self-assured style" – and only raised one quibble of note. Character control was a challenge for one of the reviewers since "given the sheer number of possible moves at Mario's disposal, there's, uh, a lot to learn." They were also unhappy that some moves required motion control to pull off – significantly tougher when playing with a Pro Controller rather than the standard Joy Cons. Nonetheless, the reviewers were keen to impress that this was only a minor quibble and that Super Mario Odyssey is "almost certain to be lauded as one of (Mario's) best."
Conclusion
The critical consensus on Super Mario Odyssey is that this is a truly stellar game, one of the best Mario titles ever and a game that everyone should play. No significant drawbacks were reported by any of the reviewers and there was consistent praise for the scale of the game, the diversity offered by the new possession/Cappy mechanic and its stylish delivery and presentation. Super Mario Odyssey appears to achieved the difficult feat of pushing Mario in new directions while retaining the "sense" and "feel" of Mario games past.