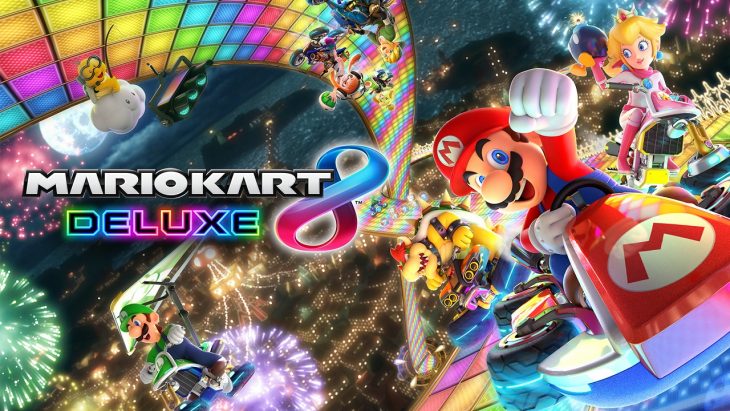 | Reviewer | Score |
| --- | --- |
| Metacritic (aggregator) | 92/100 |
| Amazon (customer reviews) | 4.6/5 |
| Gamespot | 9/10 |
| IGN | 9.3/10 |
| Gamesradar | 5/5 |
| Trusted Reviews | 10/10 |
| The Guardian | 5/5 |
| Aggregate Score | 9.5/10 |
Nintendo's latest venture into the console market, the Switch, hit the shelves last month and made a strong initial impact. Zelda: Breath of the Wild, earned rave reviews (10 out of 10 by our calculations) and was lauded as one of the best launch games of all time, and now Nintendo are ready to back it up with another of their classic IPs. Mario Kart has been beloved by gamers since its debut on the SNES and has starred on every Nintendo home console since.
Is the Switch edition, Mario Kart 8 Deluxe, a worthy addition to the franchise? Let's take a look at some of the most prominent reviews for the game.
Metacritic: At the time of writing review aggregator Metacritic list Mario Kart 8 Deluxe with a metascore of 92 out of 100. This indicates "universal acclaim" and is based on 77 individual critic reviews. Tellingly, all 76 of these reviews are classed by Metacritic as "positive," one "mixed", and none falling into the less favorable "negative" category.
The Guardian: "The best, most versatile game in the series"
The Guardian awarded Mario Kart 8 Deluxe 5 stars out of 5 and were impressed by the game. Though they noted that it wasn't an entirely new game but an update of Mario Kart 8 for the Wii U, they felt that this "doesn't really matter." They praised the diverse array of characters and tracks and new features such as "smart steering," a control assist for new players to help them compete against more experienced players. The Guardian felt the game worked well on the Switch as the console's design allowed two players to play "without having to buy extra equipment," thanks to the detachable joy con controllers and tablet screen of the Switch. The game really came into its own, however, when a group of players gathered together to play shared races on their portable versions of the Switch – particularly battle modes like the new "Renegade Roundup," which produced some memorable moments.
GamesRadar: "Three years on: still a classic, and with its biggest weakness fixed. If you own a Switch it's a no-brainer – especially if it's your first time."
GamesRadar also awarded Mario Kart 8 Deluxe 5 stars out of 5 and praised many of the same features highlighted by The Guardian. They felt that changes to the game's battle mode were the biggest step forward in the game. Whereas previous Mario Kart iterations "repurposed" tracks as battle modes, something GamesRadar found confusing, Mario Kart 8 Deluxe sees "a return to battle arenas purpose-designed for weaponised chaos." Like The Guardian, GamesRadar felt that Renegade Roundup was the highlight of battle mode, an "impossibly moreish" multiplayer experience in which competitors try to jail opponents and free their teammates. All told, "Nintendo has duly delivered with the definitive version of the most complete Mario Kart to date".
IGN: "Mario Kart 8 Deluxe is still a gorgeous game and the overhauled Battle mode is a great reason to pick it up."
IGN scored Mario Kart 8 Deluxe 9.3 out of 10 and again identified the game's battle mode update as its major improvement. They did find time to praise the game's graphics, which have "remarkable detail," and the fast and furious pace of racing. They were, however, disappointed that the game's multiplayer was still "as barebones an experience on the Switch as it was on the Wii U," particularly since hopes were high that a new console would see Nintendo focus more on online experiences.
Gamespot: "This is the varied, exciting Battle Mode that Mario Kart 8 should have had all along."
GameSpot scored Mario Kart 8 Deluxe 9 out of 10 and felt that the changes for the Switch version "refine an already great racing game." Like other reviewers they praised Nintendo's "huge overhaul to the original's afterthought of a Battle Mode" and noted that this was the main reason owners of Mario Kart 8 on the Wii U should consider upgrading to Mario Kart 8 Deluxe.
Conclusion
The critical consensus on Mario Kart 8 Deluxe is extremely strong. This is a polished update to a game that looks and plays beautifully. Battle mode is the main area of improvement. It has been completely overhauled, with new arenas and gameplay modes, and makes the game a worthy purchase even for owners of Mario Kart 8.