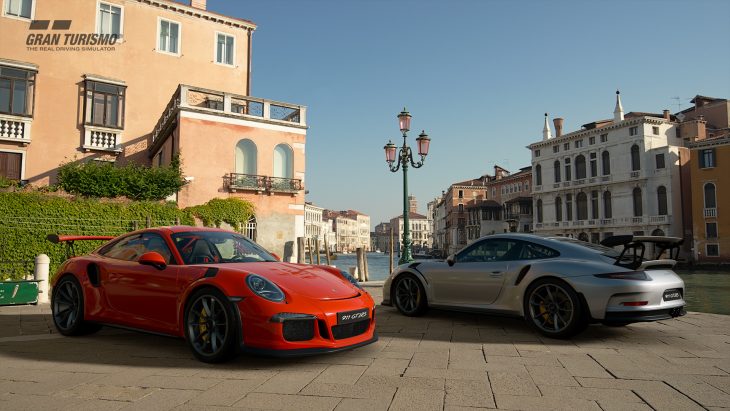 | Reviewer | Score |
| --- | --- |
| Metacritic (aggregator) | 76/100 |
| Amazon (customer reviews) | 2.4/5.0 |
| IGN | 7.5/10 |
| Forbes | 7.1/10 |
| Trusted Reviews | 7/10 |
| Gamesradar | 4/5 |
| Stuff | 4/5 |
| Aggregate Score | 7.1/10 |
Gran Turismo is a series synonymous with both PlayStation and the best driving simulation experience on the market. When a game is so accurate at replicating the driving experience that race drivers use it for training you know to expect quality gameplay. But Gran Turismo Sport is a different game to its predecessors, with online functionality at the forefront as developers Polyphony Digital push to bring the series in line with the competition. As such the core feeling of Gran Turismo has shifted in this latest title, leaving many reviewers disappointed with what they've received. Some outlets have yet to give their official review score due to the lack of online cups and tournaments, which will begin on November 3rd. Let's see what's been said so far.
Metacritic. On Metacritic the game received 76 out of 100, with 20 'positive' and 13 'mixed' reviews from press outlets, but the user reviews are far more worrying. The game has 80 'positive', 20 'mixed', but 152 'negative' reviews, with a common thread of complain throughout. The fact that Gran Turismo Sport requires players to be online for all but one of the game's activities is a huge shift in accessibility. Offline only Arcade challenges and VR mode can be played, and players must be logged into the Playstation Network in order to compete with others online, or play the trimmed-down single player campaign. A lack of variety in cars and diminished lineup of tracks add to this disappointment, making fans feel like half of the game is missing.
IGN: "GT Sport looks great, feels good, and the online racing is well done, but it's just not as complete as its competitors."
IGN. Luke Reilly for IGN gave the game a 7.5 out of 10, saying that the lack of weather variants and a smaller range of tracks puts Gran Turismo Sport at the bottom of the pile of this year's racing game releases. A number of the cars seem to be returned versions of the same model, and while there is an argument for quality over quantity, it's not as if the competition is rendering their vehicles in MS Paint. However, the handling of each vehicle feels far better and more realistic than ever before, adding real weight when required and a sense of urgency in high-speed races. The new 'Sportsmanship Rating' that increases for good behaviour during races, such as not crashing and good overtaking, is a great system for matching good players with other good players, helping them to avoid those who seek to crash all the time and ruin other people's fun.
TheSixthAxis gave Gran Turismo Sport an 8 out of 10, calling it a near essential purchase for any racing fan on Playstation 4. While the game may have its downsides when it comes to online connectivity requirements it's still a familiar feeling Gran Turismo title under the hood. The game encourages players to become better drivers through the new 'Sportsmanship Rating' system, and looks to usher in a new age of competitive online racing. However, the lack of a single player campaign is seriously damaging, and would be an unexpected source of contention for any Gran Turismo fan hoping to return to the series for more of what they're used to.
GamesRadar+ gave the game 4 out of 5, saying that the crash mechanics are weak, familiar, and reminiscent of last-gen titles, the game completely stalls if the internet connection is interrupted, and the single player campaign is very similar to the version of Gran Turismo that released for the PSP. However, they also said that the game has an ultra solid driving experience with a level of nuance that's unrivaled, the cars, particularly glass effects, are stunning, and the online mode has a feeling of being curated as opposed to being left and taken over by one group of players.
Trusted Reviews: "Gran Turismo Sport is worthy of the name and a great driving simulator, but a lack of content compared to what the series usually offers makes it a curious beast."
GameInformer gave the game 78 out of 100, a solid score that indicates a good racing title. They tell fans that despite the game's foibles it should be the start of something new for the developer and for the franchise. The career mode has a lot more to offer than their first appears, and the shift to an online focus is a good one that will ensure Gran Turismo continues to keep up with the growing number of competing titles on the market.
Forbes gave the game 7.1 out of 10, a 'mixed' review that serves as a good indicator for how many casual gamers are viewing Gran Turismo Sport. They list the same good points as most press outlets about the title, the stunning visuals, superb handling, and in particular the attention to detail that's been paid to the sound of each car. However, they weren't impressed by the lack of cars, tracks, weather effects, and seem to come down hard on the lack of a customisation engine, which has never been a core part of any Gran Turismo game in the developer's defense.
Forbes: "GTS lacks overall depth, but it is saved from being a complete failure by its stellar visuals, fun and realistic driving experience."
Conclusion
The consensus for Gran Turismo Sport is positive overall, but there's a definite feeling of disappointment and unfulfilled expectations for fans. The move to an almost always online-only platform is a risky move for a series that's always had its roots in the hyper-realistic single player campaign, but it sounds like it's going to pay off. More and more driving games are focussing on the way players interact with each other because the single player experience is far too linear. If Gran Turismo Sport can go on to bridge the gap between these two play styles it'll be one of the best racing games of 2017.