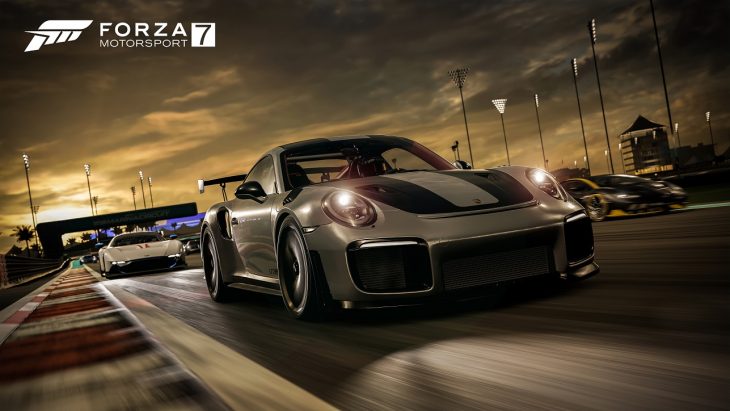 | Reviewer | Score |
| --- | --- |
| Metacritic (aggregator) | 87/100 |
| Amazon (customer reviews) | 3.9/5.0 |
| Gamespot | 8/10 |
| IGN | 9.2/10 |
| Polygon | 8.5/10 |
| Trusted Reviews | 8/10 |
| Gamesradar | 5/5 |
| Aggregate Score | 8.6/10 |
Forza Motorsport 7 is the 2017 release of the Forza racing series, argued to be one of the best, if not the best racing game on the market in 2017. Already the game has had an update pushed out as well as DLC released in the form of new vehicles from the Fast and Furious franchise.
The Forza games have always scored well in reviews, with aggregate review scores sitting between 79 and 92 for each release. Forza Motorsport 7 has had a bumpy lead up to launch with news of a new loot box system being implemented, but will that be enough to perturb the otherwise solid series?
Metacritic: At the time of writing Metacritic has a score of 87 out of 100 based on 54 reviews. This is a positive indicator and sits nicely in the middle of the scores achieved by previous titles, though it hasn't set a new record. 51 of these reviews are 'positive' while just 3 are 'mixed ', and currently there have been no 'negative' reviews submitted to the site. Many of the comments on the game's page say that it's the best Forza game to date, with a huge selection of cars to collect.
Gamespot: "A true standout for the powerhouse that is Xbox One X, Forza Motorsport 7 looks to take the wheel and cross the finish line in high-definition."
Gamespot found Forza Motorsport 7 to be an inspiring racing experience that drives players to go so far as to recreate famous races such as the '1996 Zanardi pass a Laguna Seca', giving it an 8 out of 10. The game's flexibility and variety allows for all manner of different racing experiences, not least thanks to the excellent weather system that lets players create their perfect race. This makes up for the lack of modes and cars that made Forza 6 a more complete feeling title at launch.
Eurogamer awarded Forza Motorsport 7 a 'Recommended', which sits in the middle of their three tier review score system. They say that while the game is still built upon the core gameplay of grinding races to earn in-game money to advance to more race-grinding in faster, better cars, the career mode has been carefully curated to provide a full journey and realistic-feeling experience. Eurogamer's review goes on to argue that the new Prize Box system gamify's the challenge of racing well enough to earn that next car you desire, though it also provides players with the option to take on different variations in the race tracks they become accustomed to.
Eurogamer: "Another handsome, well built and entertaining Forza rolls off the production line – though there are controversial changes under the hood."
IGN gave the game a 9.2 out of 10, echoing the finding of other reviews when it comes to the sheer range of cars and tracks available. They say that the endless replayability makes Forza Motorsport 7 a 'mammoth' in terms of content, adding that the game is accessible both to complete newcomers to the series as well as those hardcore racing fans.
GamesRadar gave Forza Motorsport 7 generous 5 out of 5, top marks from the website. While they point out that this is the best racing game in the current console generation, it's not without its problems. Among the issues are long loading times and underwhelming crash damage visuals, but these are more than easy to overlook thanks to Froza's more appealing qualities.
Polygon: "Forza 7 feels just right as driving game"
Polygon gave the game 85 out of 100. They further reiterate the ease with which players can take to the game thanks to coherent controls and helpful tutorials. The game's looks come up again as an issue in their review, however they also point out that the game has been made with the Xbox One X as they ideal platform, and will therefore look at its best on that console.
Conclusion
Forza Motorsport 7 is being hailed as the best game is the series and the best racing title of 2017. It packs in more tracks, cars, and customisation options that any other racing title, though the selection can look a bit bare at times compared to that of Forza Motorsport 6. The new Prize Box system allows players to advance at their own pace using mods to change the conditions of their next race and earn more CP, but some may feel that the random car acquisition dilutes the experience somewhat.
While Forza Motorsport 7 is a very good looking game it can be found lacking in some areas, such as with crash damage and realistic collision animations. However, this is still the best racing game of 2017 and it will look even better when played on the most powerful console on the market, the Xbox One X.