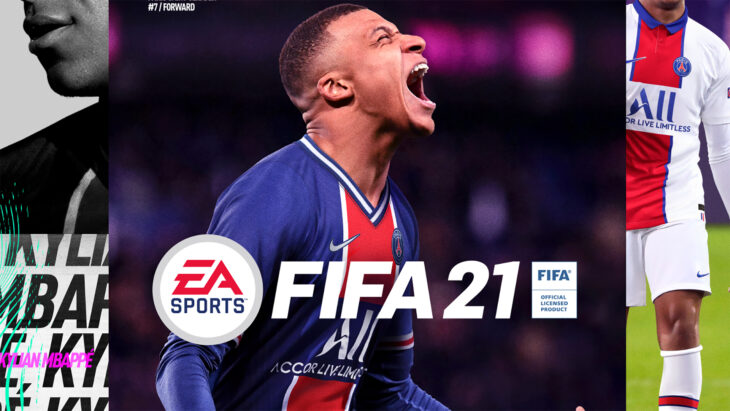 | Reviewer | Score |
| --- | --- |
| Metacritic (aggregator) | 73/100 |
| Gamespot | 8/10 |
| IGN | 7/10 |
| Push Square | 7/10 |
| The Guardian | 4/5 |
| Forbes | 83/100 |
| TechRadar | 3/5 |
| Aggregate Score | 74/100 |
FIFA 21 is EA's latest entry to their famous football simulation series. This year's entry is special because it bridges the gap to the next-generation of consoles. It's currently only possible to play the game on PC, PlayStation 4, Xbox One, and Nintendo Switch.
Metacritic: 76/100
Metacritic reports an aggregate review score for the game on PlayStation 4 of 73, 79 on Xbox One, 76 on PC, but no critical score for the Switch version. However, many press outlets have called out the Switch version, dubbed the Legacy Edition, as nothing more than a reskin of FIFA 19. Indeed, the game's product page for the last two years has stated that it is the same game as FIFA 19, just with new teams and kits added. All Switch players find this unacceptable, and it has pushed down sales for the Legacy Edition as a result.
Amazon: 4 out of 5 Stars
Most reviews on Amazon give FIFA 21 high praise for the gameplay innovations it brings to the series. An enhanced career mode provides hours more gameplay in single player, but the evolution of the controls both in the player's hands and on-screen are said to be incredible. These alone are enough to justify purchasing the game this year, but new features keep on coming in the form of everything that has been added to the infamous FIFA Ultimate Team mode.
EuroGamer: Fun football with plenty of goals, but the grubby business of selling loot boxes lets the side down.
Forbes: 83/100
Forbes are very positive about FIFA 21. They say that it offers everything a football fan could want in a game, and much more. As with many other outlets, the career mode expansion is one of the highlights, and it highlights why players should stick around for multiplayer and more offline modes. However, it's in VOLTA, a FIFA Street style game mode, that FIFA 21 lets itself down. This mode was touted as a huge evolution to the series, but it seems to fall flat before it's even begun here.
The Guardian: 4 out of 5 Stars
The Guardian echo the thoughts of many critics out there. They say that anyone who has played a FIFA game in the past will love what's on offer here. While there have been innovations made in each and every game mode, they're not quite as noticeable as you may think apparently. They seem to think that only those who play FIFA each year will notice what has been added to the game, while everyone else will just see that it's a good football game. They add that FIFA Ultimate Team still has just as many reasons to return as it did before, which can be both good and bad depending on how you look at it.
Gamespot: A Goal Bonanza.
The Gamer: 4 out of 5 Stars
The Gamer dive deeper into the issues that some players will have with FIFA 21, though they aren't necessarily with the game itself. They point out that anyone who buys the game for a current-gen console will only have their progress in FIFA Ultimate Team and VOLTA follow them across to a next-generation version of the game. Any single player progress will be lost forever, stuck on an Xbox One or PlayStation 4. While this is a good reason to wait to buy the game, or purchase the very expensive Ultimate Edition, it does nothing to sooze the anxiety that those who enjoy playing this yearly release will be feeling.
GameSpot: 8 out of 10
GameSpot gives a very nice overview of FIFA 21 in their review. They say that gameplay tweaks to aspects such as player responsiveness are very impressive. New features such as Agile Dribbling give players a way to structure a team's attack, and adding co-op to FIFA Ultimate Team is a stroke of genius. They add that career mode feels much more expansive and enjoyable, as does VOLTA with its new game modes. However, menus can be a slog at times, and The Debut is a missed potential new feature entirely.
IGN: EA appear to have hit a sweet spot with the pace of gameplay this year.
IGN: 7 out of 10
IGN are far less forgiving of the lack of major changes made in FIFA 21. They do applaud EA for the additions and innovations that have been made, but say they aren't enough. In a game that will bridge two generations of consoles, more was expected front his flagship sports title. Aspects such as the player AI need attention, and making career mode longer, or adding co-op to FIFA Ultimate Team simply isn't enough.
Overall it seems as though most critics are pleased with FIFA 21, it's just not what they were expecting. The game will be the first football simulator to release on the PlayStation 5 and Xbox Series X and S, but it feels like a current-gen release only. Players shouldn't be looking forward to FIFA 22 already, but it seems like many will be once they've spent some time with FIFA 21.