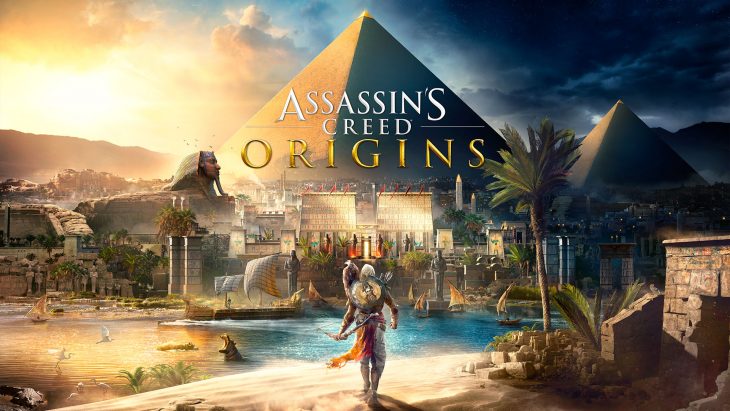 | Reviewer | Score |
| --- | --- |
| Metacritic (aggregator) | 82/100 |
| Amazon (customer reviews) | 4.2/5.0 |
| Gamespot | 7/10 |
| IGN | 9/10 |
| Polygon | 8.5/10 |
| Trusted Reviews | 8/10 |
| PC Gamer | 84/100 |
| Aggregate Score | 8.2/10 |
Ubisoft's Assassin's Creed franchise has been phenomenally successful, shipping millions of games since the series made its debut in 2007. However, while the early games were heavily praised by critics – "Assassin's Creed II," for example, boasts a metascore of 90 out of 100 on review aggregator Metacritic – recent additions to the series haven't fared so well. The last major Assassin's Creed release, 2015's Syndicate, only scored 76 out of 100 of Metacritic, despite an impressive sandbox depiction of Victorian London.
Can the latest entry, Assassin's Creed Origins, which transports players to Ancient Egypt, elevate the franchise to its former heights? Let's take a look at some of the major reviews of the PS4 version of the game.
Metacritic. Review aggregator Metacritic currently list the PS4 version of Assassin's Creed Origins (ASO) with a metascore of 82 out of 100. At the time of writing this score is based on 52 individual reviews and indicates "generally favourable reviews" for the game. Of the 52 critical reviews, 44 are classed as "positive" by Metacritic and eight as "mixed." Perhaps tellingly, none fit in the remaining category "negative," suggesting that, at the very least, the game has something to offer.
Gamesradar: "This Egyptian playground is finally everything you wanted the Creed to be"
Gamesradar certainly believe that ASO has plenty to offer. They awarded it a perfect score of 5 stars and noted that its "Egyptian playground is finally everything you wanted the Creed to be." They observed that the scale of the game's open world environments is breathtaking and a source of endless stories. They also noted that, unlike other open worlds, there are no deadzones in ASO and that you can "go everywhere, climb everything even if it doesn't have handholds, dive everywhere," adding to the sense of freedom. They were also impressed with the game's graphics, characterisation and dialogue that could be both humerous and emotive and found no major drawbacks to the game.
IGN were also impressed with ASO and scored it 9 out of 10. They felt that Egypt was one of the series' "most alluring" settings yet and echoed Gamesradar's observation that this is the biggest Assassin's Creed map yet. They praised the game's "delightfully mystical" main story and noted that a natural urge to explore the environment resulted in interesting discoveries, while Creed's trademark parkour movement was smoother than ever. IGN observed that combat has been totally rebuilt for this game and felt it was all the better for it, with a greater diversity of enemies to face and more thought required to overcome them. They did notice problems with "environments popping in, a hand full of bugs" and "framerate drops," but felt this was nothing a patch or two wouldn't fix. Tellingly, the reviewer noted that at the end of the game "I desperately wanted to keep playing."
IGN: "Assassin's Creed Origins is an expansive RPG-style dive into ancient Egypt, with tense combat and tons of variety."
Polygon scored ASO 8.5 out of 10 and were, again, hugely impressed by the realisation of the game's historical setting. "If you ever wanted to step into the distant past, into a simulation of ancient life, here it is," they wrote. They were also impressed by the game's graphics, story and "genuinely funny and human" characters. They did, however, find a "sameness" underlying the individual objectives of the game – eg find this object for this person – and found the gameplay underwhelming in comparison to the setting. All told, they felt ASO was the most impressive outing in the series so far but that they "yearn for a fresh approach and new ideas" to reinvigorate Assassin's Creed.
GameSpot weren't as enamoured with the game as the other reviewers and only scored it 7 out of 10. While they echoed praise for the graphics and setting of ACO, they noted that several "technical hiccups and bugs…disrupt the flow of the experience." They also registered problems with the game's combat mechanics, especially when a large number of enemies enter the fray and a "lock-on camera that follows the action far too closely". They identified the game's stealth system as another issue, finding it clunky and problematic, but ended the review on a positive note, stating that in spite of its problems ASO presents a vision for the series' future that is "worth pursuing."
Gamespot: "Come for the assassinations, stay for the sights."
Conclusion
The critical consensus on Assassin's Creed Origins is strong. This is a beautifully presented game, with a wonderfully realised open world setting that both encourages and rewards exploration. The story, characters and dialogue are also strong, but the game is let down slightly by a few technical glitches and the lingering sense of repetition and staleness that often creeps into a long-running series.