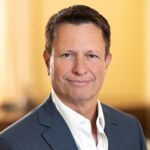 Nick van Dyk is currently EVP and Chief Strategy Officer, Nexon Corp., and President of Nexon Studios. He was Co-President of Activision Blizzard Studios, the film and television division of the video-game developer and publisher that manages some of the most popular game series.
Mr. van Dyk received his Bachelor of Arts (Political Science) from the University of California, Los Angeles, in 1990 before working for the management and consulting firm, L.E.K. Consulting, as an associate for three years. After graduating from the Harvard Business School in 1993 with a Master of Business Administration (MBA), he went on to work for the Walt Disney Company as manager for strategic planning in Burbank, California. In 1997 he became Executive Vice President and Chief Strategic Officer of Artisan Entertainment, a movie studio based in Santa Monica, where he worked for five years. He then became a partner for the British pantomime and theatre company, First Family Entertainment. Thomson-Technicolor, a global communication and media services corporation, employed him as Senior Vice President in February 2005. After a short period, in August he moved to the role of Senior Vice President for corporate strategy and business development at the Walt Disney Company. He worked there for over nine years, before accepting his current role of Co-President for Activision Blizzard Studios in September 2014.
Mr. van Dyk's role is to adapt Activision Blizzard's most popular video game franchises to the big and small screen. These brands include Call of Duty, Starcraft, Destiny, World of Warcraft, and the popular strategy card game Hearthstone. Skylanders will be the pilot project as a TV-series called Skylanders Academy, set to debut in 2016. A Call of Duty film series is expected to be developed sometime in the near future. Mr. van Dyk oversees all parts of this process, from financing and development to production and publishing.
---
Profiles and Links:
---
Related News
Read all related news...