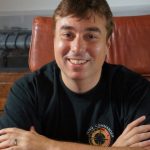 Chris Roberts is Chairman & CEO of Cloud Imperium Games and Roberts Space Industries. He is a Co-Founder of Cloud Imperium Games Corporation, which develops Star Citizen game, crowdfunded by Kickstart. As of December 2015 the project has already attracted $100 million.
Chris Roberts, born May 27, 1968, is a game designer, programmer, and film producer from Redwood City, California. Roberts grew up in Manchester, England, but returned to the United States in 1986 to begin his career in the video game industry.
Early in his career he worked at Origin Systems, creating games like Times of Lore, Bad Blood, and Wing Commander, which were as influential on other games of their time as they were critically acclaimed.
In 1996, Roberts left Origin and co-founded a new company, Digital Anvil, with his brother, Erin Roberts, and several friends and peers. Roberts used the company as a means to both produce games and experiment with his interest in film production. In 1999, the company released Wing Commander, a feature length film directed by Roberts, loosely based on his game of the same name. The company produced only one game (Starlancer) during Roberts' time there, before it was purchased by Microsoft, after which Roberts decided to leave the company.
After leaving Digital Anvil, Roberts decided to focus on filmmaking, and founded first Point of No Return Entertainment, then, in 2002, Ascendant Pictures. He produced several films through this new company, including Lord of War, The Punisher, and Lucky Number Slevin.
In 2011, Roberts returned to the video game industry, co-founding Cloud Imperium Games with his business partner Ortwin Freyermuth. In 2012, the company launched a crowdfunding campaign for their new project, Star Citizen, a sprawling online multiplayer space simulator game. This crowdfunding campaign broke all previous records for crowdfunding in the video game industry, raising their goal of $23 million within a year, and over $106 million total as of January 2016.
Roberts continues to serve as the co-founder and CEO of Cloud Imperium Games, with Star Citizen set to be publicly released in 2016.
---
Profiles and Links:
---
Related News
Read all related news...