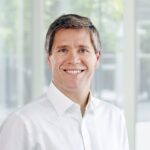 Bertrand Bodson is the Chief Executive Officer (CEO) of Keywords Studios. He was appointed to this position in September 2021. Prior to that, Mr. Bodson was a Member of the Executive Committee and Chief Digital Officer at Novartis. Bertrand Bodson has extensive experience in retail management having served as a non-executive director at Tesco and Sainsbury's, and Senior Group Product Manager at Amazon.
Bertrand Bodson received MBA from Harvard Business School in 2003.
---
Profiles and Links:
---
Related News
Read all related news...