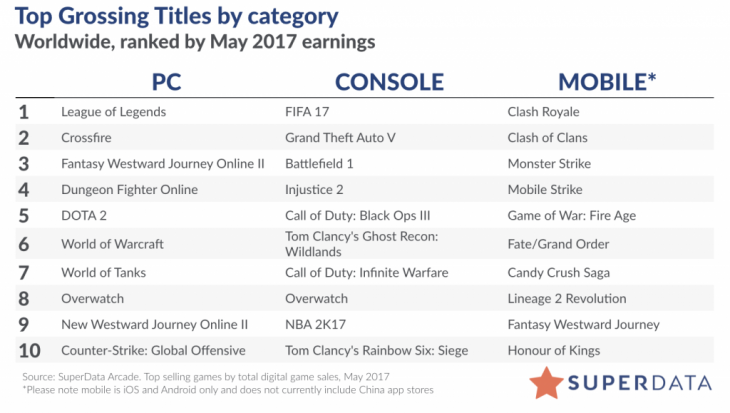 According to the latest report from research firm SuperData, the worldwide video games market grew by 9 percent year-on-year in May to $7.8 billion.
The mobile sector grew by 16 percent last month and was the strongest contributor to the market's growth. Pay to play and free to play games also saw an increase of 12 percent and 17 percent respectively.
However, the data doesn't only show growth in areas of the market, but decline in specific areas as well. Console gaming saw a decline of 7 percent for example, and social gaming a similar decline of 4 percent. The largest decline across all sectors of the market was seen in the premium PC sector, with a massive decline of 30 percent year-on-year.
US gamers spent $1 billion during May this year on digital content across all platforms, including purchases of new and old titles as well as DLC. Overwatch in particular showed continued growth throughout May even though digital revenue is down from when it launched in the same month last year. The increase in digital sales is likely to be caused by the recent release of Overwatch Anniversary Edition, offering new players a bundle of the game, currency, and loot boxes.
PLAYERUNKNOWN'S BATTLEGROUNDS continued to sell well throughout May, securing a colossal 2.5 million units sold over the course of the month.
A new release in May, Injustice 2, saw a strong launch on consoles with an estimated 500,000 units sold for the console sector alone. These figures have secured the game fourth place in top worldwide digital grossing games for May.
Call of Duty: Black Ops 3 had new DLC launched in May, pushing it above last year's iteration, Call of Duty: Infinite Warfare, and putting it firmly in fifth place on the chart, and Tom Clancy's Rainbow Six: Siege made it back into the top ten list for the first time since January 2016 with the support of the Year Two content dropping into the game.
The top ten grossing games for May 2017 are as follows:
1. FIFA 17
2. Grand Theft Auto 5
3. Battlefield 1
4. Injustice 2
5. Call of Duty: Black Ops 3
6. Tom Clancy's Ghost Recon: Wildlands
7. Call of Duty Infinite Warfare
8. Overwatch
9. NBA 2K17
10. Tom Clancy's Rainbow Six: Siege
Related Topics:
Video game charts
---