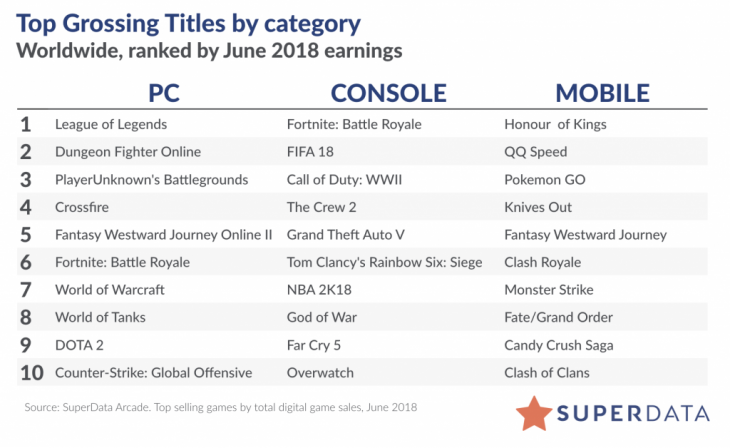 Data from market research firm Superdata indicates that worldwide digital spending on games increased by 15% year on year in June 2018. All told, $9.1 billion was spent digitally across PC, console and gaming platforms – highlighting the overall health of the industry.
However, the fact that mobile and console revenue both increased by 23% year on year masks a slight decline in PC revenue – something that may alarm those with investments in PC gaming considering that, on the face of it, several PC games did well in June.
Steam's summer sale traditionally gives PC games a boost. It certainly did so for PlayerUnkown's Battlegrounds, which posted 4.7 million unit sales last month – its second best month of unit sales to date.
The Crew 2 and the Sims 4 also posted strong results for June. The Crew 2 shipped 700,000 digital units in the month and an impressive 800,000 players purchased an expansion pack for The Crew 2.
Of course, items on sale need to ship substantially more copies to make up for the lower price point – PlayerUnknown's Battlegrounds retailed for $19.99 rather than $29.99 in the sale – and this may account for the lack of overall growth in the PC market.
Fortnite, the gaming phenomenon of the year, dominated the console charts, placing first for revenue, however the mobile version of the game was a surprising omission from the mobile chart.
It is, however, surely only a matter of time before Fortnite breaks into the top ten of the highly competitive mobile market – certainly if data suggesting that the mobile version of Fortnite is now raking in upwards of $2 million dollars in revenue every week is correct.
Honour of Kings currently tops the mobile spending charts, followed by QQ Speed in second place and the enduringly successful Pokemon Go in third.
On console, Fortnite is followed by FIFA 18 in second place – the game receiving a timely boost thanks to World Cup 2018 tie-ins – and Call of Duty: WWII in third. The latest iteration of the franchise shooter has now pulled in more revenue than its predecessor COD: Infinite Warfare did in the same period after release, though still lags behind the figures posted by COD: Black Ops III in the same period.
League of Legends tops the PC revenue chart, followed by Dungeon Fighter Online in second and PlayerUnknown's Battlegrounds in third. It does appear, however, that the mobile and console markets are currently in stronger health than the PC gaming market.