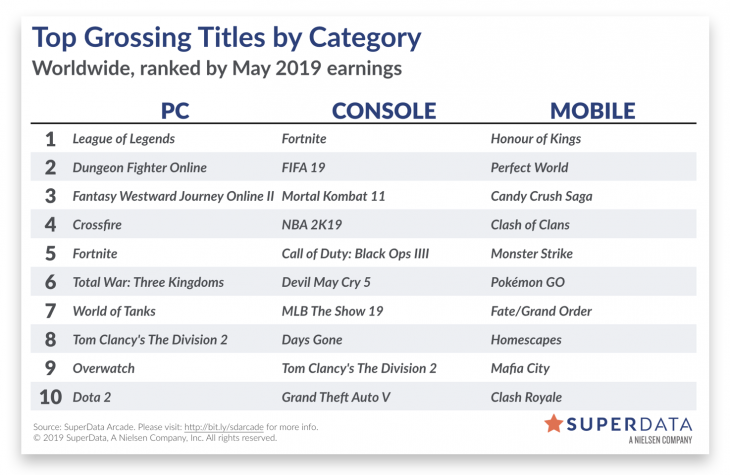 Superdata have released their report on spending for the worldwide digital games market in May 2019. The report shows that digital spending over the console, mobile, and PC segments was down to $8.7 billion for the month, a drop year-on-year of 4 percent.
The largest contributor to May's drop in digital spending was the continued decline of mobile, which fell by 6 percent year-on-year. A drop-off in spending on Fortnite has dragged both the PC and console segments down, alongside mobile.
In May 2019 Fortnite saw the release of Season 9, generating a total of $203 million over PC, mobile, and console. Revenue was up by a large amount compared to April 2019, but down by 38 percent year-on-year. Console remains to be the largest source of revenue for Fortnite, as well as players.
It's estimated that revenue generated for FIFA Ultimate Team for the period was $93 million from console and PC, a decrease year-on-year. However, last year is a tough comparison period given strong revenue streams, driven by the World Cup mode. Superdata have found that the World Cup revenue slowed fast, and that future months should offer comparisons that show growth in 2019.
EA revealed FIFA 20 during E3 this year, which will add a new game mode and bolster FIFA Ultimate Team. However the game performs up until the next iteration of FIFA launches, it will almost certainly see a huge boost when it does.
Sega launched the most recent entry in their medieval strategy series in May: Total War: Three Kingdoms. The game generated $62 million for the month, and shot straight to the top of the PC rankings, topping one million sales in the first week after launch.
Finally, year to date, ending in May 2019, it is estimated that PUBG has sold 4.7 million units. Even though other battle royale titles have come along to best it in many ways, such as Apex Legends with superb team communication, or Fortnite with unrivalled accessibility, PUBG remains one of the best shooter games on the market.
Battle royale continues to be a polarising genre, though one that seems to be experiencing little fatigue. Recently Bethesda brought the game mode to their MMO title, Fallout 76, which has proven to be so popular that the initial early beta version of the game mode has been added indefinitely to the core game.