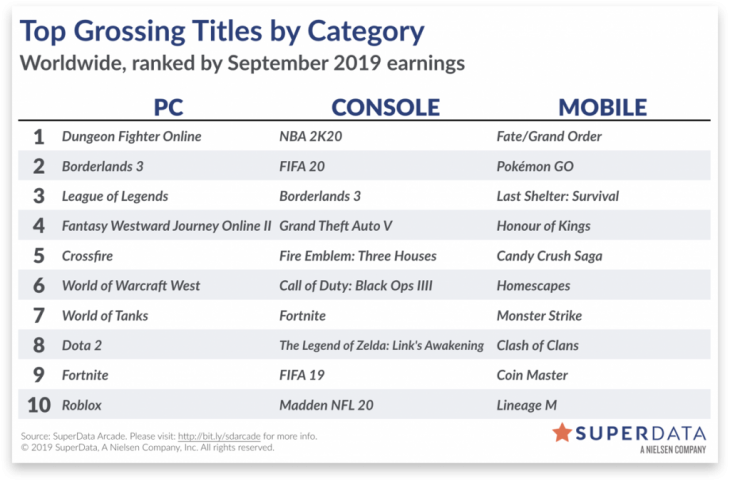 SuperData has released its analysis for the worldwide games market in September 2019. According to their data, worldwide digital spending was down by 1 percent year-on-year, dropping to $8.9 billion for the month.
Total spending on consoles and PC was down by 17 percent and 3 percent year-on-year respectively, even though there were a number of big launches in the month. The declines seen in these areas offset the 6 percent increase seen in spending on mobile games for the month, growing the segment's market share to 59 percent for September 2019.
In-game spending for the NBA2K franchise grew by only 6 percent in September, even though that the latest release in the franchise, NBA 2K20, launched on September 6, 2019. The FIFA franchise on the other hand saw a decline in in-game spending year-on-year, though this is because of an unfavorable comparison to the World Cup last year, which grew the franchise's popularity at the time immensely. Combined, these franchises saw growth in in-game spending of 24 percent at the time last year.
Fortnite's in-game spending dropped by 43 percent month-over-month in September, which is the worst performing month for the game since November 2017. However, September was the last month of the game's final season before the launch of Fortnite Chapter 2, which has no doubt increased the game's popularity once more.
Fate/Grand Order saw a huge boost, jumping to the top of SuperData's mobile rankings for the month with revenue soaring to $246 million, which is up from $131 million in August, and $98 million for September 2018. The majority of this revenue increase came from China according to SuperData.
Finally, it's estimated that Borderlands 3 sold 3.3 million digital units across PC and consoles for the month of September. Thanks for Digital Deluxe unit sales, the average price for the game was $69 for these 3.3 million copies. Borderlands 3 has been called the best game in the series to date, with a greater range of biomes to explore, across multiple worlds, as well as more weapons than players know what to do with.