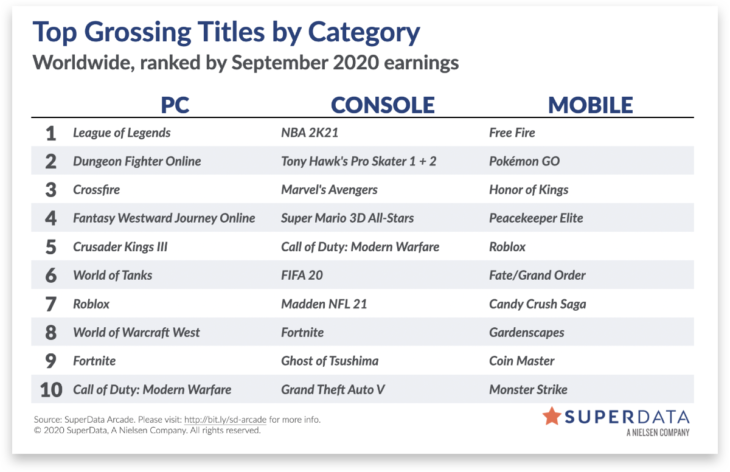 SuperData has released its report on the worldwide digital games market for September 2020.
The report shows that digital games generated $10.7 billion for the month, which is an increase year-on-year of 14 percent. All platform types earned more this year than they did for the same month in 2019. This is thanks to major titles hitting the market, increasing console spending by 40 percent, mobile revenue by 9 percent, and PC revenue by 8 percent.
NBA 2K21 sold 1.9 million digital units, and was the top earning game for the month. Digital console sales for the game were up by 19 percent on NBA 2K20 during its launch, and in-game revenue was up by 8 percent. The game managed to benefit from the rescheduling of the NBA postseason.
Despite middling reviews, Marvel's Avengers sold 2.2 million digital units. It's the second-biggest launch for a game from Square Enix, with Final Fantasy VII Remake being the best. Sales were about the same as Marvel's Spider-Man. However, the game's looter shooter, always-online format makes it more of a long term seller.
Nostalgic games sold extremely well for the month. Tony Hawk's Pro Skater 1+2, a remake of the first two games in the franchise, sold 2.8 million digital units, which is significantly higher than Activision Blizzard's other remakes for Spyro and Crash Bandicoot.
Super Mario 3D All-Stars sold 1.8 million digital units. This is extremely impressive considering the bundle containing Super Mario 64, Super Mario Sunshine, and Super Mario Galaxy is exclusive to the Nintendo Switch.
Crusader Kings 3 broke records for publisher Paradox Interactive, shifting 1.1 million digital units in September. The game shifted more units than both Total War: Three Kingdoms and Civilization VI. However, the game earned slightly less than competitors because of it's cheaper price point, down by $10 or so.
The mobile version of Among Us reached almost as many players as Pokemon Go had at its peak in August 2016. The game launched in 2018, but has picked up more players thanks to YouTubers and streamers broadcasting it to their audiences. Despite the only in-game spending available being a group of cheap cosmetic packs, spending on it was enough to push it into the top 40 grossing games in the mobile market. Considering just three people made the game, earnings were incredible.
Rocket League saw a hugely successful response to its move to free-to-play. Player numbers tripled for the month, up by 193 percent year-on-year. It's thought that earnings from the game should boost now thanks to more streamers and content creators being able to access the game for free.