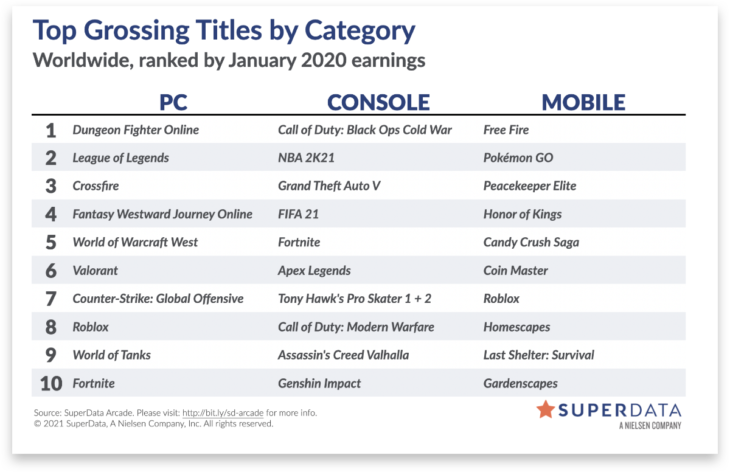 Earnings from digital games around the world grew by 15 percent year-on-year in January 2021. The total earnings figure for the month was a whopping $11.6 billion.
Growth in revenue was seen across all devices, with mobile growing by 6 percent, console by 24 percent, and PC by 31 percent. The month is yet another that shows 10 percent revenue growth year-on-year, but it's one of the last comparisons we'll see before the impact of COVID-19 comes into play.
Free-to-play PC title Valorant had a great month for players and in-game spending. This is thanks to a new season launching, as well as a new character coming to the hero shooter. Earnings shot up between December and January by 29 percent. Out of the total player growth for the period, 72 percent came from returning players who had since given up on the game. This shows that the game's success, like many hero shooters and MOBAs, relies on the consistency of updates and new content.
Player numbers for World of Warcraft dropped back to normal levels after the peak in interest caused by Shadowlands, the latest expansion, died down. Revenue dropped by 61 percent between November and January. User numbers also fell by 41 percent, excluding China. While this pattern roughly matches what has been seen with past expansions, Shadowlands definitely had a bigger launch.
Activision Blizzard demonstrated last year that they can nearly double the revenue spikes from World of Warcraft. With all-new expansions to the main game, the revenue spikes are the same as they always have been. However, now expansions are also being released for World of Warcraft: Classic, giving the publisher two big moments in the game's life each year.
January saw the player base for Red Dead Redemption 2 hit its highest ever level on PC, and the user count doubled on consoles. This is due to Red Dead Redemption Online being sold as a standalone product at $4.99. The price went up to $19.99 on February 15, which will have caused an influx of players looking to cash in on the discount. Now the game's world is much more populated, leading to a better overall experience.
Unit sales for Red Dead Redemption Online topped 1.8 million when combined with Red Dead Redemption 2 on PC. This is much higher than the 611,000 seen on consoles. It's likely that more players went for the PC version because of the improved graphics.