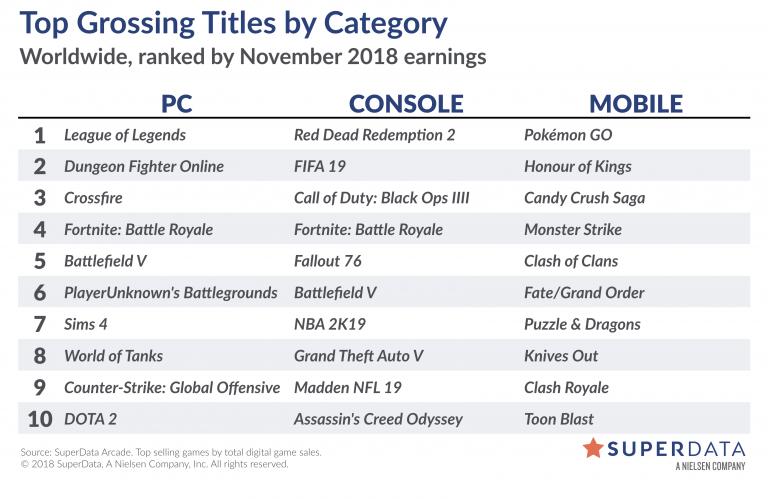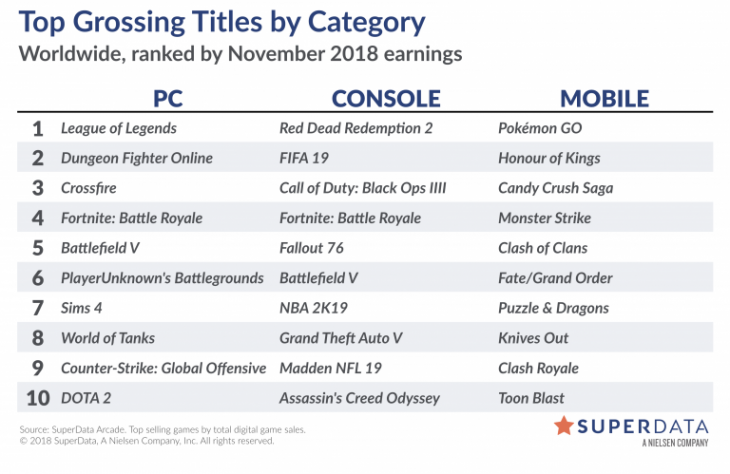 SuperData have released their report on worldwide digital games spending, revealing that November remained consistent with last year's figures.
Year-on-year consumer spending on digital games over all platforms fell by 1 percent to $9.05 billion. The Premium PC and Mobile segments fell by about 5 percent, which offset a 13 percent rise in console spending.
Battlefield 5 and Fallout 76 underperformed, causing a deficit in the console games segment. Luckily digital spending on Red Dead Redemption 2 and Fortnite more than made up for this, providing the overall boost.
It's estimated that Battlefield 5 sold 1.9 million digital copies, and Fallout 76 sold 1.4 million digital copies, across consoles and PC at launch. Both games received fairly average reviews, with the feedback surrounding Fallout 76 being a lot more negative than anticipated. The launch sales of both titles were down compared to the last entries in each franchise, Battlefield 1 and Fallout 4.
FIFA 19 has been a success so far but is still lagging behind FIFA 18. Total spending on additional content for FIFA and Madden has grown year-on-year by 1 percent, which is down massively compared to the growth seen in November last year, 25 percent.
The boost provided to Destiny 2 sales with Forsaken has been short-lived according to Super Data. Year-on-year additional content spending for the game has dropped by 63 percent, and engagement in the game and its monetization have dropped to the same level seen before the Forsaken DLC launched in September.
Additional content revenue for Ubisoft's core shooter, Rainbow Six Siege, has seen a decline of 33 percent in November. This is the biggest decline the game has ever seen and comes hot on the heels of a similar decline in October. The decline seen over these last two months, compared to the relative success of the game throughout 2018, have been caused by a number of big new releases. Call of Duty: Black Ops 4 is currently attracting a lot of new players with its new Blackout, battle royale, mode, which could be the cause of the decline of Rainbow Six Siege.