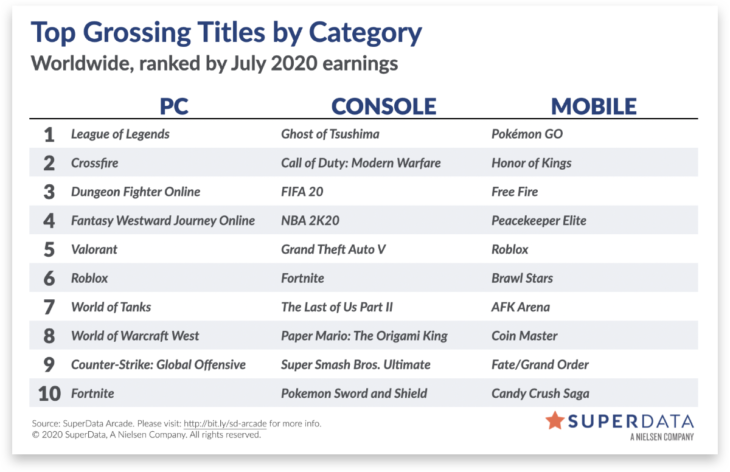 SuperData has released their report on the worldwide digital games market for July 2020. The most notable point in the report is that Ghost of Tsushima became the fastest-selling new PlayStation IP, and sold 1.9 million digital units in the month.
Horizon: Zero Dawn sold 1.9 million in two months, and Days Gone sold 1.3 million units in the same period of time, putting Ghost of Tsushima way ahead of them. The game also claims the title for biggest game launch in a July ever, with The Last Of Us Part 2 setting the same record in June 2020.
It's thought that Ghost of Tsushima has seen more success than it would have otherwise due to the coronavirus (COVID-19) pandemic. More people are looking for indoor entertainment, and a big new Sony IP provides just that.
Paper Mario: The Origami King shifted 555,000 units in July alone. It didn't perform as well as games such as Animal Crossing: New Horizons at launch, which shifted 5 million units, or Pokemon Sword and Shield, which sold 2.7 million units. However, it has outsold July 2019's big exclusive, Fire Emblem: Three Houses.
Pokemon Go saw the second biggest month in terms of revenue in history in July 2020. Earnings were just below August 2016, 0.4 percent lower, which was when the game had just launched and become a global phenomenon. However, player numbers were 15 percent of what they were when the game launched, but even so it saw a huge income stream from Pokemon Go Fest. The event had a $15 fee just to enter and take part.
Finally, Free Fire is one of two new mobile games that seem to be creating a niche for themselves in the segment. It's a mobile battle royale game from Garena, a Singapore-based publisher. It has become Southeast Asia's top mobile game, due to the fact that it runs well on low-spec smartphones.
Many people are actually moving over to Free Fire from PUBG because the game has such a large and growing community. With more players there are fuller lobbies in each match, making for much more enjoyable gameplay.