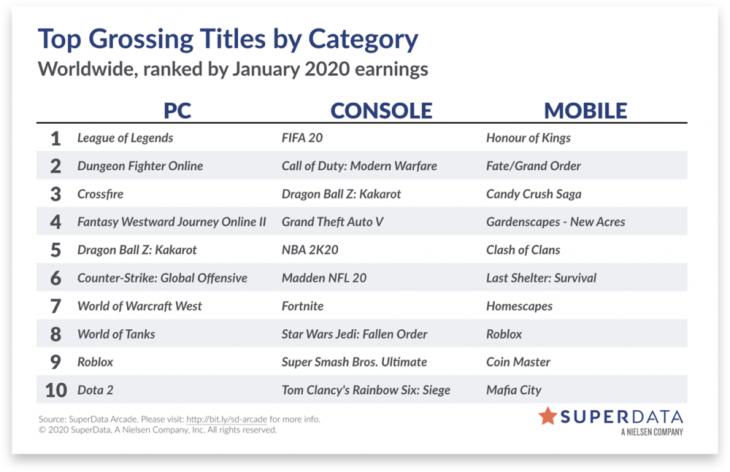 SuperData has released their report for the worldwide digital games market in January 2020. Digital games revenue grew in January 2020 to hit $9.4 billion, an increase of 3 percent year-on-year.
Of that increase, mobile revenue grew by 13 percent year-on-year, which helped to offset the drop seen in revenue for PC and console revenue. Console revenue saw a particularly sharp drop of 42 percent, attributed to lowered interest in Fortnite, down 19 percent year-on-year for the premium space in particular. Part of the issue is the comparison to a strong January 2019, when both Kingdom Hearts 3 and Resident Evil 2 Remake launched.
Dragon Ball Z: Kakarot set a new record for the franchise, selling 1.6 million digital units. Kakarot is the first Dragon Ball game in recent years to have a single-player focus instead of a multiplayer focus. This helped it attract many more consumers, with launch sales that are double that of any other game in the franchise.
A new puzzle game from Russian developer Playrix, Gardenscapes – New Acres, has risen to third place in the mobile chart, generating $111.9 million in revenue. Since the game launched in September 2019 it has shown growth each month. Combined with revenue from its sister game, Homescapes, the pair bring in more monthly revenue than all the Candy Crush Saga games.
User numbers saw a big boost for World of Warcraft with the game's latest update, Visions of N'Zoth. Subscribers grew by 17 percent between December and January, though they're still down by 64 percent compared to August 2019, when the incredibly popular World of Warcraft Classic launched.
In January Fortnite has continued to follow the steady decline that it's been showing since November 2017. The launch of Season 4 for Apex Legends boosted console monthly active users by 12 percent month-on-month, but the game still brought in less revenue that it did in December.
PUBG recently launched season 6, and saw a far better response. PC in-game spending grew by 512 percent month-on-month, a welcome boost after months of low spending. The game continues to be popular even so long after launch because it is the original battle royale game that sparked the genre to life. The developer has continued to innovate within the scope of the game, bringing new features that fans enjoy, which is probably why it has survived for so long.