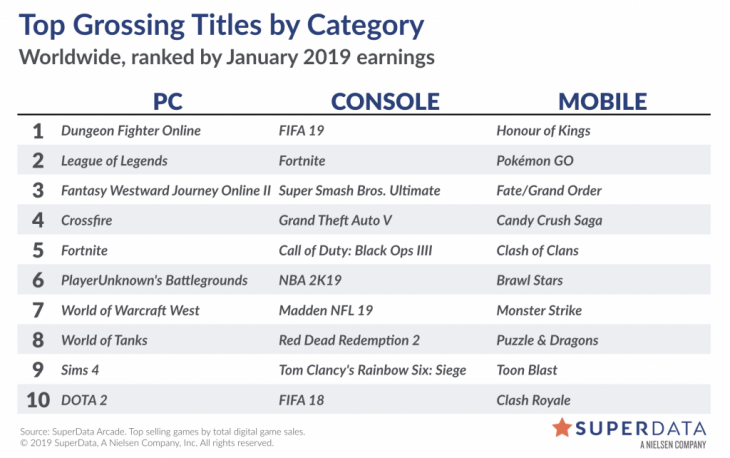 Superdata have released their monthly report for January 2019, covering digital spending for the month around the world. Over the month consumers spent $8.4 billion across all platforms on digital games, which is a year-on-year drop of 6 percent.
Premium PC was where the biggest drop in digital sales was seen, with a decrease year-on-year of 29 percent. Revenue for console platforms has also dropped year-on-year by 3 percent, despite a favorable month for Fortnite it was the premium console titles that let the segment down, including Grand theft Auto Online, Overwatch, FIFA, and Call of Duty.
The revenue for Fortnite has decreased month-on-month by 48 percent, but sales are still up year-on-year. This indicates that Fortnite will see a lot of peaks and troughs in terms of revenue in 2019, particularly since the title's sales peaked in December 2018. Other battle royale titles have been trying to take a piece of the market Fortnite has been dominating for the past few months. February's data may show a different story, with the release of Apex Legends for all platforms.
Revenue for Red Dead Redemption 2 Online, which is currently still in beta, has failed to gather momentum, decreasing in revenue month-on-month by 14 percent. This is thought to be caused by a big drop in monthly active users. Compared to Grand Theft Auto Online the same time last year the combined sales from both it and Red Dead Redemption 2 Online are flat.
Compared to December sales of Super Smash Bros Ultimate have seen a dramatic drop of 83 percent. This shows that sales were more heavily front-loaded that first thought, but also that hardware bundle sales with the Nintendo Switch had a lot to do with the game's success last month. However, in-game spending for the title has increased month-on-month thanks to more users purchasing the Fighter Pass.
Monthly active users in Counter-Strike: Global Offensive are up year-on-year by 8 percent. However this isn't translating into increased revenue. The move to becoming a free to play title has paid off in terms of players, but digital spending has dropped considerably as fewer players convert to spending money on in-game items.