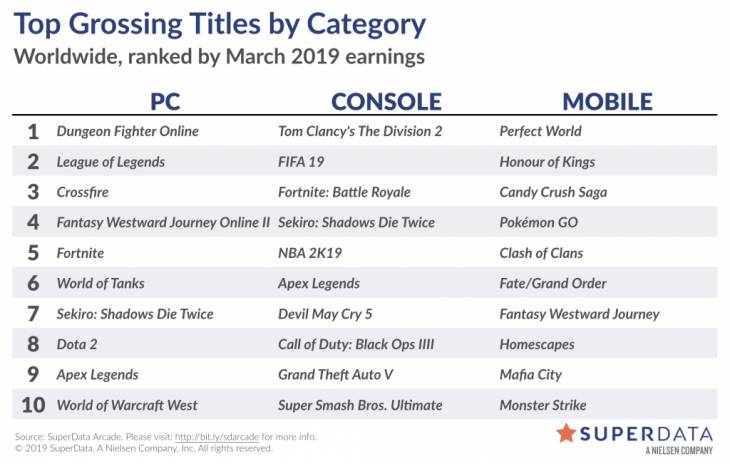 Superdata's March 2019 digital game spending report contained good news for the console sector. Digital console revenue rose 10% in comparison to the figure for the previous March, with a batch of big name releases like Devil May Cry 5, Tom Clancy's The Division 2, Sekiro: Shadows Die Twice, and Yoshi's Crafted World driving the increase.
Sekiro: Shadows Die Twice performed particularly well. From Software's new IP shipped 1.4 million digital units worldwide – 200,000 more digital sales than its From Software stablemate, Dark Souls III, managed in its first month of release.
It was, however, beaten into fourth place in the overall console charts for March 2019. Tom Clancy's The Division 2 topped the charts, with FIFA 19 and Fortnite: Battle Royale taking second and third thanks to their consistently successful in-game purchase models.
It was notable, however, that the console sector was the only area which showed digital growth. The total sales revenue for March 2019 for PC, console and mobile was $8.7 billion – 3% down on the corresponding figure for last March.
The PC sector performed particularly poorly, with a drop of 23% year-on-year. Mobile game revenue dipped by 3%, though it's notable that mobile revenue still made up 56% of the total digital revenue for March, highlighting the importance of this sector.
Superdata were keen to highlight the ongoing success of Fortnite in their report. They note that's its revenue grew 7% year on year, albeit March 2019 is the first time revenues for the mobile version have been factored into the equation (last March Fortnite was only available on PC, console and as a beta mobile game).
They do note that Fortnite will have a hard time sustaining its success as 2019 progresses, following its "meteoric rise during Spring and Summer 2018."
Finally, Superdata report good news for Nintendo. They estimate that they "generated $67 million from in-game spending during 1Q19, primarily from its $25 Fighter Pass." Perhaps these results will encourage Nintendo, tentative with digital and online offerings when the Switch entered the market, to explore this sector more in the future.