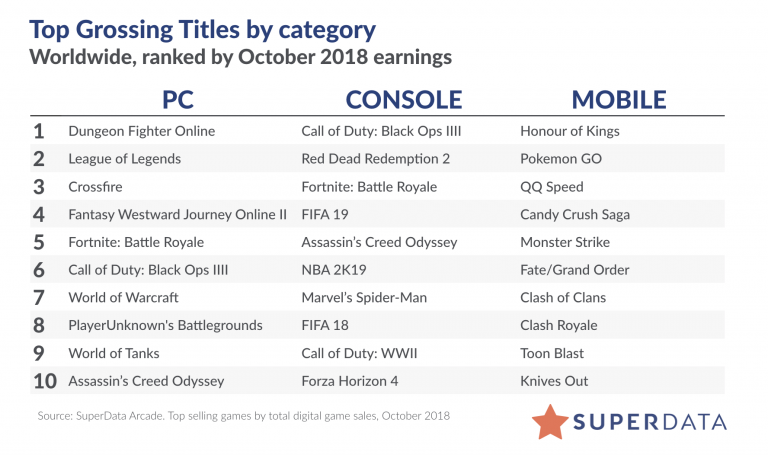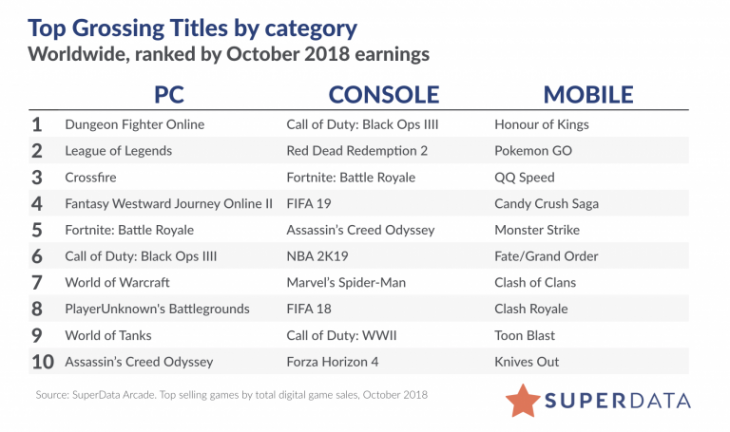 SuperData have released their report on the worldwide digital games market for October 2018. The report shows that consumer spending on digital games for October was $1.53 billion, an increase of 80 percent year-on-year.
Two strong game launches led the way for October's growth; Call of Duty: Black Ops 4, and Red Dead Redemption 2. Full game download revenue grew to $1 billion for the first month ever since Super Data started recording.
According to SuperData Call of Duty: Black Ops 4 sold 4.2 million units in October on consoles, which is a new single month record for console sales. PC sales have also grown year-on-year for the series, but they're still a small part of the game's overall userbase.
Grand Theft Auto Online has shown both a month-on-month and year-on-year double digit decline. This is the lowest earning month for the game in two years, and it seems like no coincidence that's it has happened in the same month that Red Dead Redemption 2 released. In the lead up to the release of Red Dead Redemption Online it's likely that Grand Theft Auto Online will see even more decline as players move across.
Red Dead Redemption 2 sold 4 million copies in under a week, of which around 67 percent were for PlayStation 4. SuperData expect the game to have the strongest quarter of all digital game sales for the quarter.
Overwatch's microtransaction revenue saw an increase for October thanks to the Halloween event, but they were still down year-on-year. This is the fifth month in a row of consistent year-on-year declines for the game, which had continuous growth since launch up until this decline began.
Finally, Fortnite revenue was up more than twenty times what it was this time last year. While the game is still far from its peak, which was this July, it's experienced the first month of growth after many months of constant decline in year-on-year revenue. The game lost out on the top spot in terms of revenue due to the release of October's big triple A releases. With few more big releases due out in 2018 Fortnite should reclaim the top spot, unless Red Dead Redemption Online proves to be more attractive to players.