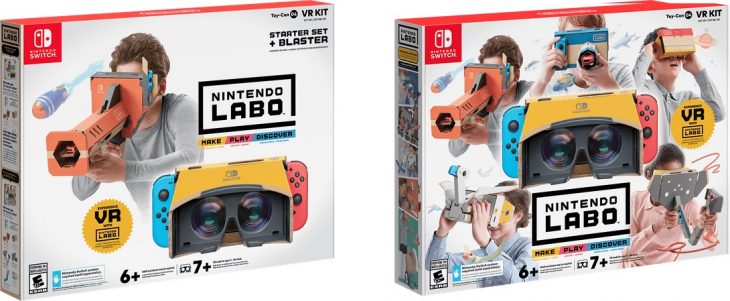 Nintendo have announced via their official Twitter account that the next Nintendo Labo Toy-Con will be a virtual reality kit. The pack is specifically named 'Nintendo Labo Toy-Con 04: VR Kit', and is the first virtual reality experience both adults and children can build themselves.
The VR Kit for Nintendo Labo will launch on the 12th of April, 2019. While VR Kit itself is a brand new product for Nintendo Labo, there are three different packs that will all launch later this year.
The base Nintendo Labo VR Kit is the Starter Set + Blaster. This packages together the Toy-Con VR Goggles, which are the base VR unit for Nintendo Labo, and the Toy-Con Blaster. The Blaster looks to be a gun peripheral that players can use to play VR shooter titles.
The second VR Kit is Expansion Set 1 Camera + Elephant. This pack includes the Camera Toy-Con and the Elephant Toy-Con. While the Camera Toy-Con looks just like a standard camera, with space for a Joy-Con controller to use for buttons, the Elephant Toy-Con is shaped like an elephant's head and uses both Joy-Con Controllers. It looks as if both of these sets add-on to the base VR Goggles in order to allow for a few different VR experiences.
The third VR Kit is Expansion Set 2 Bird + Wind Pedal. This set adds the Toy-Con Bird and Toy-Con Wind Pedal to Nintendo Labo. These Toy-Cons appear to work in unison, with the Bird Toy-Con acting as a VR Goggle add-on and the Wind Peda Toy-Con looking to introduce new interactions to the VR games and experiences.
A fourth pack, Nintendo Labo Toy-Con 04: VR Kit, includes all of the above VR Kits in one box, bringing the entire Nintendo Labo VR experience to users in one product. This pack is reported to cost $79.99 when it launches, with the base unit including the VR Goggles costin $39.99 on its own, and the other two packs available for purchase at an additional $20 each on their own.
When it first launched Nintendo Labo didn't seem like a runaway success, but the product has slowly increased its install base over time. With VR becoming a more important part of gaming, it makes sense that Nintendo would want to give Switch users an option, and one that's fairly cheap in comparison to Oculus Rift and Playstation VR.