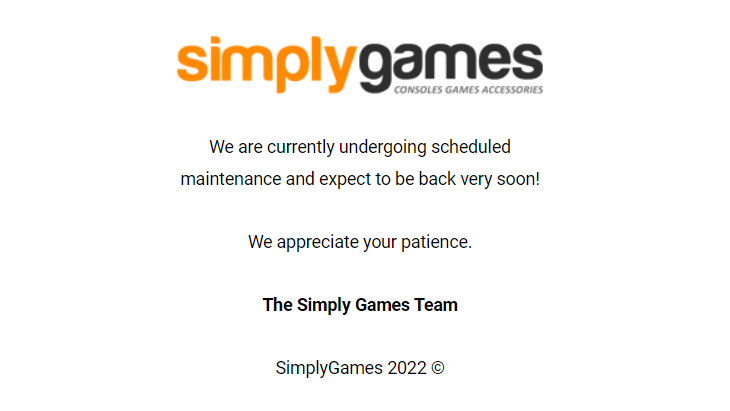 It appears that the UK games retailer Simply Games has refunded all preorder and have stopped trading.
Ever since Elden Ring was released in February, the Simply Games website has been inaccessible. This caused numerous customers to take to Twitter and ask the retailer why its stock appeared to have diminished during the weeks prior to its closure.
A representative of the company posted a tweet saying that the retailer's current implementation of changes to its internal systems and the review of its preorder process are the main reason for having only a limited display of products. They continued the tweet by saying that the process should be completed in the upcoming few weeks and that new titles will be added to the website.
Their website message informs that the website is undergoing scheduled maintenance and that it will be back very soon.
Customers have reported since then that many of their preordered titles such as Lego Star Wars: The Skywalker Saga and Gran Turismo 7 have been canceled or even failed to arrive in a small number of cases.
Earlier this year, it was verified by VGC that while the website was still fully operational, its preorder section featured only a small number of titles. This wasn't always the case as the store used to offer preorders of all the year's upcoming titles.
According to VGC, the Boss Deals Store, which is an eBay Store linked to Simply Games, has also closed. Their website is still active, however, no items are available for sale.
It would seem that Black Cloth Trading LTD, a company that previously owned Simply Games stopped trading back in 2019, however, it was still active until February 2022, although in a reduced capacity.
From there, it appears that Boss Developments LTD took over the ownership of Simply Games and both companies were under the ownership of Neil Muspratt.
He then left his lead role at Boss Developments in March 2022, however that company is still active at the time of writing this article.
VGC was also able to confirm that the company used to be well-known for breaking street dates and would deliver games a few days before their official release date.
While this is a common occurrence for other retailers as well, Simply Games broke the street rule so frequently that it became their selling point within the gaming community.
VGC contacted Simply Games in regards to the situation, but so far there has been no reply.