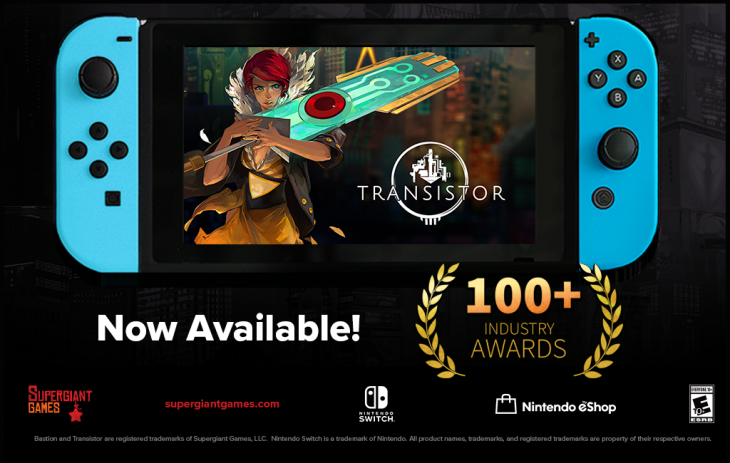 Supergiant Games, developers of Bastion, have announced that another of their games has released for Nintendo Switch, Transistor.
Transistor is the second game to come from Supergiant Games. The title, much like Bastion, is a stylized RPG in which players take on the role of a character who finds a mysterious weapon. Together the pair must battle their way through hordes of enemies in a unique combat style that sees enemies and the protagonist alike use special abilities for different points.
The game has sold more than 600,000 copies worldwide, and earned more than 100 accolades from the industry through awards from events and press outlets alike. The game has been available on PlayStation 4, PC, and smartphone devices. Reviews have praised the game on all platforms for the gameplay, design, and story, all of which come together to enhance it.
The Nintendo Switch version of Transistor has been ported with the greatest care taken to make it as visually impressive as every other version. Supergiant Games have also optimized the game to make use of the rumble feature and the unique design of the Switch, which has a larger screen than most handheld devices.
Transistor launched in 2014 with a unique style and universe that the developers set out to create from the ground up. Players are transported to a whole new world with an intense story that sees two characters meet out of nowhere, and form a bond over the course of the game that's unlike anything else.
This is just the latest in a long lineup of third-party titles to release for Nintendo Switch. Nintendo have been working extremely hard to make the platform as open as possible to developers in order to have as many games as possible available for it. The first-party offering for the console is already very impressive, with a number of new games on the way for 2019, but games like Transistor serve to bolster that offering even more.
Transistor should look good in both docked and handheld mode for the Nintendo Switch. The game will also feature unique control schemes for each mode, bringing it in line with other Switch titles.