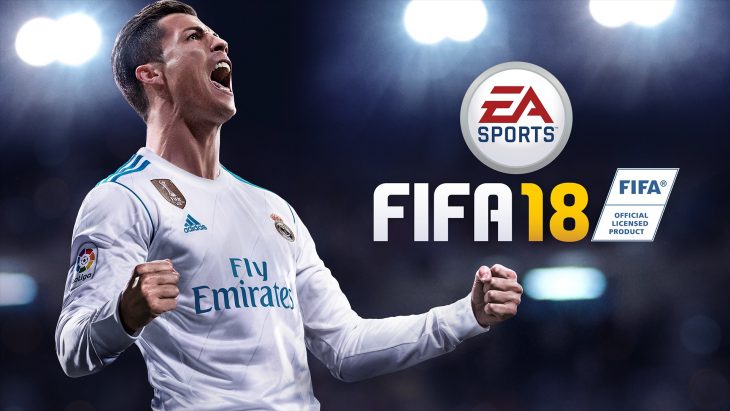 GfK have revealed their list of the top 100 best-selling games of the last year, showing that FIFA 18 has come out on top.
The top 100 best-selling games list has seen a lot of movement in the last few weeks, a lot of which can be attributed to sales over the holiday period. Physical games such as FIFA 18 are packaged with consoles and that's where a lot of games have made the additional sales that moved them up the list.
Call of Duty: WW2 is second on the top 100 list, helped in part by the now expected sales milestones the series famously hits. On Xbox One alone the game was the best-selling, but other consoles have pushed FIFA 18 over the edge.
Amazingly Grand Theft Auto 5, despite being almost 5 years old at this point, is third in the chart. The game saw the most players ever in the online mode, GTA Online, in December 2017. Rockstar Games also announced that 2017 was the best year they've ever seen in terms of number of players and revenue generated from players.
Assassin's Creed Origins is in fourth position. The game released at end of October 2017, meaning it's had to sell well to make it to this position. The extra year of development time that Ubisoft took to break the cycle of yearly releases in this series, as well as allow time to finish and polish the game, has clearly paid off.
Crash Bandicoot N.Sane Trilogy is in sixth position. Considering the game is a Playstation 4 exclusive it says a lot about the power nostalgia has to sell a product. Star Wars: Battlefront 2 has made it to fifth place despite the controversy surrounding the loot boxes in it.
Two Nintendo Switch games just missed out on making it into the top 10 of the chart. Mario Kart 8 Deluxe Edition sits in eleventh place while Super Mario Odyssey is in twelfth. This could have something to do with the fact that there were a number of stock issues for the console throughout 2017, meaning all consumers who wanted one have one.
The full top 100 best selling physical games of 2017 are as follows.
1. FIFA 18 – Electronic Arts
2. Call Of Duty: WWII – Activision Blizzard
3. Grand Theft Auto V – Rockstar/Take 2
4. Assassin's Creed Origins – Ubisoft
5. Star Wars Battlefront II – Electronic Arts
6. Crash Bandicoot N.Sane Trilogy – Activision Blizzard
7. Destiny 2 – Activision Blizzard
8. Gran Turismo: Sport – Sony Computer Ent.
9. Tom Clancy's Ghost Recon: Wildlands – Ubisoft
10. Horizon Zero Dawn – Sony Computer Ent.
11. Mario Kart 8 Deluxe – Nintendo
12. Super Mario Odyssey – Nintendo
13. Forza Horizon 3 – Microsoft
14. The Legend Of Zelda: Breath Of The Wild – Nintendo
15. Call Of Duty: Infinite Warfare – Activision Blizzard
16. Lego Worlds – Warner Bros. Interactive
17. FIFA 17 – Electronic Arts
18. Resident Evil 7: Biohazard – Capcom
19. Fallout 4 – Bethesda Softworks
20. Forza Motorsport 7 – Microsoft
21. Uncharted: The Lost Legacy – Sony Computer Ent.
22. WWE 2K18 – 2K/Take Two
23. Rocket League – 505 Games
24. Middle-earth: Shadow Of War – Warner Bros. Interactive
25. Mass Effect: Andromeda – Ea Games
26. Tom Clancy's Rainbow 6: Siege – Ubisoft
27. Minecraft: Xbox Edition – Microsoft
28. Doom – Bethesda Softworks
29. Overwatch – Blizzard
30. For Honor – Ubisoft
31. Need For Speed Payback – Ea Games
32. Wolfenstein II: The New Colossus – Bethesda Softworks
33. Battlefield 1 – Ea Games
34. The Sims 4 – Ea Games
35. South Park: The Fractured But Whole – Ubisoft
36. Injustice 2 – Warner Bros. Interactive
37. Dishonored 2 – Bethesda Softworks
38. Minecraft: Playstation Edition – Sony Computer Ent.
39. 1-2 Switch – Nintendo
40. Splatoon 2 – Nintendo
41. Mario + Rabbids Kingdom Battle – Ubisoft
42. Lego City Undercover – Warner Bros. Interactive
43. Prey – Bethesda Softworks
44. Playerunknown's Battlegrounds – Microsoft
45. Playstation VR Worlds – Sony Computer Ent.
46. Lego Marvel Super Heroes 2 – Warner Bros. Interactive
47. Pokemon Ultra Sun – Nintendo
48. NBA 2K18 – 2K/Take Two
49. F1 2017 – Codemasters
50. Overwatch: Game Of The Year Edition – Blizzard
51. Pokemon Ultra Moon – Nintendo
52. The Elder Scrolls V: Skyrim Special Ed. – Bethesda Softworks
53. Sonic Forces – Sega
54. Watch Dogs 2 – Ubisoft
55. WWE 2k17 – 2K/Take Two
56. Lego Star Wars: The Force Awakens – Warner Bros. Interactive
57. Just Dance 2018 – Ubisoft
58. Mario Kart 7 – Nintendo
59. Sniper Elite 4 – Sold Out Sales & Marketing
60. Mafia III – Take Two
61. Hitman: The Complete First Season – Square Enix Europe
62. The Lego Ninjago Movie Videogame – Warner Bros. Interactive
63. Dirt 4 – Codemasters
64. New Super Mario Bros. 2 – Nintendo
65. Pokemon Sun – Nintendo
66. Tekken 7 – Bandai Namco Entertainment
67. The Evil Within 2 – Bethesda Softworks
68. L.A. Noire – Take 2
69. Lego Marvel Avengers – Warner Bros. Interactive
70. Tom Clancy's The Division – Ubisoft
71. Uncharted 4: A Thief's End – Sony Computer Ent.
72. Steep – Ubisoft
73. Hidden Agenda – Sony Computer Ent.
74. Gears Of War 4 Microsoft
75. Pro Evolution Soccer 2018 Konami
76. Knowledge Is Power Sony Computer Ent.
77. Just Dance 2017 – Ubisoft
78. Ark: Survival Evolved – Studio Wildcard
79. Miitopia – Nintendo
80. Final Fantasy Xv – Square Enix Europe
81. Wipeout: Omega Collection – Sony Computer Ent.
82. Football Manager 2018 – Sega
83. Lego Jurassic World – Warner Bros. Interactive
84. Pokemon Moon – Nintendo
85. Minecraft: Story Mode – Complete Adv. – Telltale Games
86. Assassin's Creed: The Ezio Collection – Ubisoft
87. Rayman Legends – Ubisoft
88. Micro Machines: World Series – Codemasters
89. Minecraft: Story Mode – Season 2 – Telltale Games
90. Tomodachi Life – Nintendo
91. Titanfall 2 – Electronic Arts
92. Star Wars Battlefront – Electronic Arts
93. Halo Wars 2 – Microsoft
94. Super Mario Maker – Nintendo
95. Yooka-laylee – Team 17
96. Farpoint – Sony Computer Ent.
97. The Witcher Iii: Wild Hunt Goty Edition – Bandai Namco Entertainment
98. NBA 2K17 – 2K/Take Two
99. Halo 5: Guardians – Microsoft
100. Persona 5 – Atlus
Related Topics:
Video game charts
---