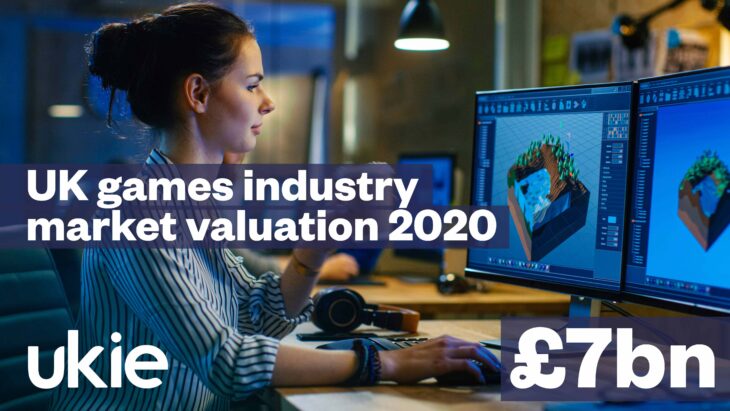 The games market in the UK generated a record £7 billion in 2020. This data comes from trade body UKIE in its latest annual market valuation. It was released today to mark the beginning of the London Games Festival.
Data shows that spending on games in the UK, including hardware, software, and other related products, reached 29.9 percent over the last year. This total breaks the last record, set in 2018, by more than a whopping £1 billion.
Obviously, the launch of a new console generation has helped with this increase. However, it's the pandemic that's thought to have driven revenue to this extent. That's because the bulk of the revenue came from software sales, up 18 percent year-on-year at £4.55 billion. Of this, digital was the strongest contender with £3.9 billion generated compared to £689 million on boxed games.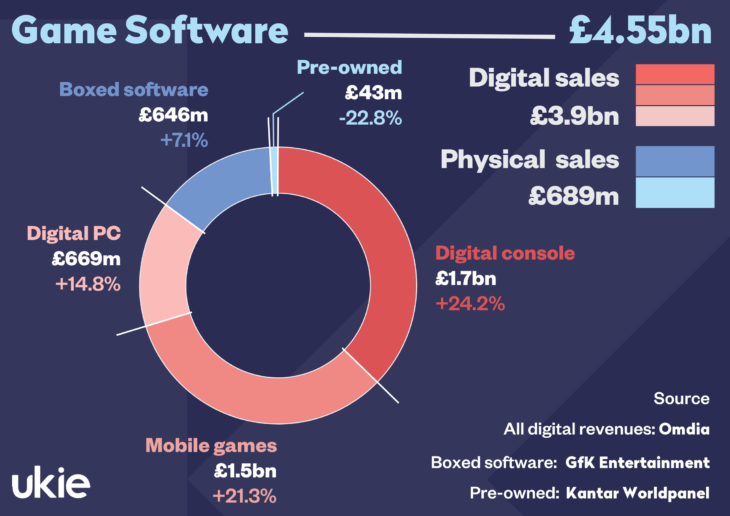 Most digital sales came from consoles, generating £1.7 billion, an increase of 24.2 percent year-on-year. Mobile followed closely with £1.5 billion, a rise of 21.3 percent, and PC with £669 million, up by 14.8 percent.
Boxed game sales saw a boost, partly thanks to online ordering, driving £646 million in sales. Up by 7.1 percent year-on-year. Unsurprisingly, pre-owned sales fell by 22.8 percent, generating just £43 million.
It was hardware that saw the biggest growth at 60.8 percent, bringing in £2.26 billion. This is a new record for the category. Consoles made up £853 million of this, up by 74.8 percent. This was aided by the next-gen console launches, but older consoles did their part too.
During the initial 13 weeks of lockdown in the UK, sales for all major platforms were up. The Switch saw a rise of 215 percent year-on-year compared to the same point in 2019, which was almost certainly aided by Animal Crossing: New Horizons. In fact, that game was the best-selling SKU of the year, topping the UK chart for 21 weeks of the year.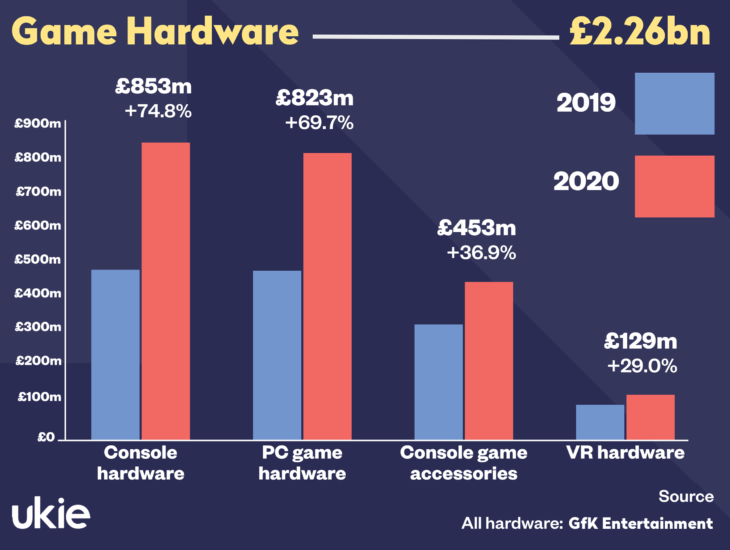 PC hardware, including peripherals such as graphics cards, gaming mice, and laptops, hit £823 million, up by 69.7 percent year-on-year. Console accessories were up by 36.9 percent with £453 million generated. Even VR saw a boost of 29 percent with £129 million generated, almost certainly driven by new interest thanks to more people staying indoors and looking for entertainment.
Understandably, the culture segment plummeted by 97.2 percent to £249,000 for the entire year. The sales of movies and soundtracks also took a hit, falling to £22.9 million, a decrease of 22.2 percent year-on-year. Books and magazines also fell to £10.5 million with a drop of 24.5 percent.
A new category for the year, streaming, generated 45.6 million, showing the power of seeing games through influencers and content creators. In addition, toys and merchandising brought in £119.6 million, a rise of 22.4 percent.
Finally, overall spending on culture products hit £299 million, a rise of 36.3 percent year-on-year.